At the 1999 Annual Club Victory Dinner the then Club committee honoured the 1970 team who contested the County Junior A Hurling Final of that year with presentations and plaques. The officers at the time were: President Fr. William Ahern CC RIP, Vice Presidents: Tommy O'Donovan RIP, and Mr. Derry O'Donovan RIP, Chairman Jeremiah Keohane, RIP, Vice – Chairman. Mr. Sean hales, Sec. Paddy Fitzgerald, Assistance Sec. Brendan Murphy, Treasure Tommy Cahalane, RIP,

The Junior 1 captain was Teddy Harrington, Vice was Connie O'Regan, while the two trainers appointed that year were Fr Tom Ahern and Connie O'Regan, Selectors were FR. Ahern, Paddy Fitzgerald, Sean hales, Sean Fitzgerald, and Mick Hennessy, RIP. In the Divisional final against Newestown in Bandon, the game was a tough and hard, but the team came through with two goals to spare. It took a superb goal and point by substitute and veteran Chris Corcoran to secure the game for Courcey rovers. Gerald Collins and Andrew Hannon, played delightful hurling. In the back line Anto Crowley, paddy Twomey and P.J. Minihane shone, john O'Donovan, centre-back and captain teddy Harrington were others to stand out. The final score was Courcey's 3-6, Newestown 0-9; Scoring for Courcey's were Gerard Collins and Oliver Crowley 0-2 each, Andrew Hannon 2-0. Chris Corcoran1-1, Ted murphy0-1,

In the first round of the championship at the cork athletic grounds, we had a great win over Killeagh with a score line of

In the semi-final against Rathluairc at the same venue, we had the wind in our favor and settled to play the more stylish hurling. The team picked up four well-taken points with Ollie Crowley scoring a great goal. Gerard Crowley and Andrew Hanna took control at midfield. Rathluairc threw everything into attack following the restart but some great covering by Courcey's backs and splendid goalkeeping by Jimmy McCarthy thwarted their best efforts. Points from Ollie Crowley and Tadgh O'Mahony were badly needed. Courcey's had a great keeper in jimmy McCarthy and defenders Murphy, Harrington, O'Donovan and Crowley covered very well. Midfielders Ger Collins and Andrew Hannon were on top for most of the game while most dangerous in attack were Ollie Crowley, Liam Hurley and wing-forwards O'Donovan and O'Mahony.

It had been 13 years since a Carbery team had been in a county final which was in 1957 where Courcey's were again in the final against Tracton only to be defeated by a great Tracton team. Chris Corcoran Liam Keogh, Sean hales, were among those who linked the two finals.

Unfortunately for Courcey's, we were beaten by a very good Cloughduv side on the day. However the team trained hard throughout the year and won a lot of admiration for their spirit and sportsmanship. Every player gave their all. This tem played 18 matches that year between championship, tournament and challenge games, the junior 2 side won the West Cork championship also in 1970. En route to the 1970 county final Courcey's had the following training panel.

From Back left:: Paddy Fitzgerald, Jimmy McCarthy, Anto Crowley, Paddy Twomey, P.J. Minihane, Mick Murphy, John O'Donovan, Teddy Harrington, Andrew Hannon, Ger Collins, Oliver Crowley, Liam Hurley, Donal O'Donovan, Vinne O'Donovan (RIP), Tadgh O'Mahony, Billy Nyhan, Vincent Crowley, Ted Murphy, John O'Brien, Seamus Hayes, Chris Corcoran, Liam Keogh, Martin Nolan, Pascal Kiely, Johnny McCarthy, Jimmy Nyhan, Miah Collins.

===================================

The Southern Star Report of the County Final in Dec 1970..

Cloughduv 3-15.......2-5 Courcey Rovers

Cloughduv were never headed in the rather unexciting County Junior Hurling Final, at Ballinhassig last Sunday, but treated their enthusiastic supporters to a display of efficient and at times really brilliant hurling, which augurs well for their prospects in the intermediate grade. Courcey Rovers were disappointed, but I can't think of any Junior side of recent times that would have stood with the new title-holders on last Sunday's performance.

Cloughduv got a dream start when Mick Walsh got a rather soft goal just after the throw in. A goal from a21 yard free some minutes later showed that Connie Kelly was going to be the villain of the piece as far as Courceys were concerned, as he continued to punish them severely throughout the game. There was little power in the Courceys attach, or rather the Cloughduv defenders were so competent that very few chances could be availed of.

The two goals that the looses got, belatedly, were rather flashing shots that are apt to beat even the tightest defence, but it was typical of the ruthless efficiency of Cloughduv that when Courceys got their first goal after a long time trying, and suggested a possibility of a last ditch stand, Cloughduv, as if hurt at their impertinence, came back and it was Connie Kelly again who waltzed through Courceys defence to score a gem of a goal and set the seal on his teams supremacy and his own brilliant hour.

Courceys, who lost no caste in defeat, played some fine hurling in the first ten minutes after the interval, and had they got a goal at that stage, what a finish we might have, but not even a point came, while Cloughduv, on the release of pressure, went off on a point scoring g spree that was a lesson of chance taking.

Courceys battled away gamely and got another goal before the finish, but Cloughduv are worthy champions and after their thirty year wait, and what odds on they winning the county intermediate in 1971, as their predecessors of 1941 did after winning the junior in 1940.

Kelly's were tops on the Cloughduv side, Connie, Tom, and Gerry, and between them they contributed 2-12 of the winning scores, Connie with artistry and accuracy accounting for 2-9, 1-4 from frees. They were well and cleverly fed by the half backs and centres Sean O'Mahony proved what a fine goalie can do for a team with some daring saves and dashing clearances, but he got fine protection from the full back line in which John Dunlea played a real captains part, well assisted by D.O'Brien and M.Keane. The half-back line of D.J. O'Reardon, Ted Dunne and J. Cronin got in some great clean striking and were an impressive trio right through.

Noel Dunne had no easy assignment at centerfield, but he was shrewdness personified, and placed every ball to best advantage. Veteran Teddy O'Mahony, sporting a "game" leg for most of the hour, still managed to contribute some fine and lovely hurling, and was very effective in the overhead stroke. Of course the Kelly's in attack, but Pat Lucey, Mick Walsh and Sean Cunningham contributed well to a fine club triumph.

For Courceys, P.J. Minihane was again the bulwark, starting in the corner- back position and then coming out to the half line in an effort to add punch in the outfield area. Goalie Jim McCarthy had some fine saves to his credit and was never one to shirk it when charging was strong. Ted Harrington, who started in defence, playing an excellent game, was equally as effective in attack, where he poised most problems for Cloughduv. Liam Hurley moved back to defence was effective in batting down, a tactic that would have worked better if there was anticipation shown by his team-mates, and confidence in his ability to bat down quite so often. Oliver Crowley strove might and main in attack, but never could get the results that were needed, and finished with what was a low tally for him of one point from a free.

Andy Hannon, Pat Crowley and J. O'Donovan were others worthy of mention on this gallant Courcey side, who are young enough to come again and credit too to that fine veteran, Chris Corcoran, who like "Hartigan Aluinn" in the Gales of Moonharrig, came into the game in the second half, but his greatest efforts were not enough.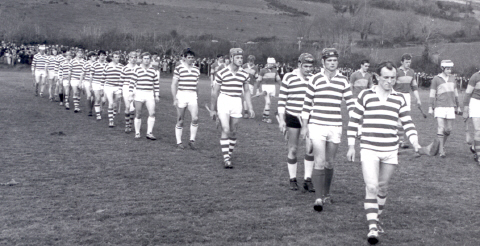 Teddy leads the team out during the parade
HOW SCORES CAME::
M. Walsh goaled for Cloughduv from play ad J. O'Donovan pointed a seventy for Courcey's. Then c. Kelly had a point, goal, and a point in that order from frees, and then had a point from play. A. Hannon had a Courcey point, t. Kelly a point for Cloughduv, and then before half-time O Crowley free, teddy Harrington for play
had a point apiece for Courcey's, balanced out by two from their opponents per n. Dunne and c. Kelly (2) from play, to make the score Cloughduv 2-7 Courcey Rovers 0-4
After the fruitless rovers attacks, almost ten minutes went by in the second half before t. Kelly pointed for Cloughduv, c. Kelly had two, one from a free, before t. Kelly and j. Kelly had one apiece. Then came Liam Hurleys goal for Courcey's and a glimmer of hope, but there was merciless retaliation when c. Kelly retaliated with his great goal. C. Kelly added a point and there was another from a seventy, before Sean Cunningham had a point from play. Courcey's had a goal and a point before the finish per g. Collins and J. O'Donovan but it was purely consolation.
Scores:: Cloughduv---C. Kelly 2-9 (1-4 from frees) M. Walsh 1-0, G. Kelly 0-2, N. Dunne 0-2, T. O'Mahony and T. Kelly 0-1 each
Courcey rovers--- L. Hurley 1-0. G. Collins 1-0, J. O'Donovan 0-2, A Hannon, O. Crowley, and T. Harrington 0-1 each
Cloughduv. S. O'Mahony, M. Keane, D. O'Brien, J. Dunlea, D. J. Riordan, T. Dunne, T. Cronin, N. Dunne, T. O'Mahony, P.Lucey, T. Kelly, C. Kelly, S. Cunningham, M. Walsh, G. Kelly.
Courcey Rovers---J. McCarthy, A. Crowley, P. Twomey, P.J. Minihane, M. Murphy, J. O'Donovan, T. Harrington, A. Hannon, G. Collins, O. Crowley, L. Hurley, D. O' Donovan, V. O'Donovan, T. O'Mahony, B. Nyhan. Subs used on day.. T. Murphy, C. Corcoran.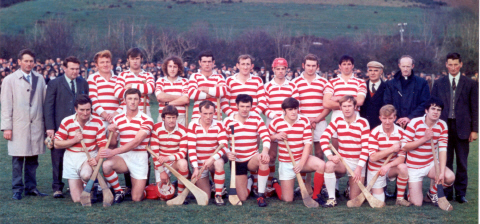 1970 County Final Team