Southern Star Report by Noel Horgan November 27th 1999
A thriller as Bandon pip Courceys

Bandon 0-11 V 1-7 Courcey Rovers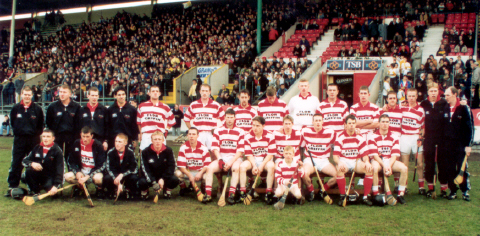 If only because of their steely resolve and unwavering self-belief, it would be hard to quibble about the merit of Bandon's victory over Courcey Rovers in a gripping TSB County Junior Hurling Championship Final at Pairc Ui Chaoimh last Sunday
Twice during the course of the second half, the character of this tender-aged Bandon combination was put to the test, but each time they responded positively to haul themselves back from the brink of disaster. Their never-say-die attitude was to be richly rewarded when wing forward Darren O'Donoghue flighted over a superb point with four minutes remaining which served to separate the sides at the finish and earn a fourth title at this level for the South West club.
For Courcey Rovers, piped by a late point also in the '97 decider against Castlelyons, it was obviously a heartbreaking defeat, and they will probably feel that they contributed largely to their own demise on this occasion.
Certainly, the fact that Courceys shot six wides whereas Bandon didn't waste a single chance, in the second half had a vital bearing on the outcome.

Yet, the most abiding memory of this match was the manner in which Bandon steadfastly refused to lose sight of their goal when Courceys seemed ready to make a decisive push at different stages of the second half.
In the final analysis it made them most worthy winners of a contest which was fought out with immense fire and passion from start to finish.
The intensity of the exchanges and the tightness of the marking left little room for frills, but while the game could hardly be described as classic, it was hugely entertaining nonetheless, particularly in the closing ten minutes when the issue remained very much in the balance and excitement reached fever pitch
With both sets of defences quick to establish control, the early indications were that this local derby confrontation was destined to go down to the wire.
Courceys, who entered the fray as favorites, got off the mark within seconds of the throw-in when their full forward, John Murphy won a free which yielded a point from wing forward Jamie Hayes.
The South East kingpins had to wait all of 13 minutes to add to their tally, however, courtesy of a splendid score by corner forward Niall Murphy from a very tight angle out near the touch line which came in quick reply to a Bandon point by James Nyhan from a free.
In the meantime, Bandon had enjoyed slightly the better of matters in general play, thanks primarily to the excellence of their half back line in which Kieran Hurley was particularly prominent on the left wing.
It meant that the Courceys full forward line, where John Murphy showed definite promise at the edge of the square, during the opening exchanges, was forced to exist on crumbs of position for most of the first half.
By contrast, the Bandon inside line of attack received a fairly generous service before the break, but, while full forward Donnacha Burke looked threatening at times, the sheer tenacity of the Courceys defence ensured that the Lily Whites created few worthwhile openings.
Right corner back Brian Hayes and Charlie White, who kept a very tight rein on Bandon's key forward Darren O'Donoghue, on the left wing were most effective in a resolute rearguard for Courceys, who found themselves 0-3 to 0-1 to the good after John Murphy with a neat back pass, to wing forward Denis Twomey up for a point in the 18th minute. James Nyhan quickly replied with a point from a free, and Donnacha Burke finally received due reward for his wholehearted play when he brought Bandon back on terms in the 20th minute.
It was no more than Bandon deserved at that stage, and they continued to look the more convincing side as the first half drew to a close, with John Aherne, Ger O'Donovan and Kieran Hurley remaining firmly in control in the half back line.
Darren O'Donoghue wasted a good chance to inch Bandon ahead shortly afterwards and then Courceys keeper Seamus Hurley, did well to prevent Donnacha Burke from getting the vital touch in a goalmouth scramble before the improving O'Donoghue placed corner forward James Nyhan for the lead score with six minutes to the interval.
Corner forward Richard Sweetnam shot wide from a good position as Bandon sought to consolidate their advantage before a late point from a free by Jamie Hayes earned Courceys equality, 0-4 to 0-4, at the end of a rather scrappy opening 30 minutes.
In a bid to find a remedy for their problems in the half forward line, Courceys introduced Con O'Regan on the right wing for the second half, with Denis Twomey going from there to midfield in place of Liam Twomey. Considering that the midfield exchanges had been largely inconclusive before the break, one felt that Liam Twomey was a little hard done by, but the changes brought results in that Denis Twomey was quick to make an impact in his new role while Con O'Regan made a promising start too in attack.
The result was that Courceys snatched the initiative on the resumption, with Jamie Hayes converting a brace of placed balls, the second a 65 came about following a determined surge forward by Con O'Regan, inside 35 minutes. With John Murphy, now operating in the right corner, and Jamie Hayes from a free, both shooting bad wides in the ensuing minutes, Courceys failed to press home their advantage when on top.
They had good cause to rue such wastage when Bandon, after failing further adrift to a Jamie Hayes point fro a free in the 40th minute, bravely clawed their way back into contention before the end of the third quarter.
The sparkling play from wing back Kieran Hurley did much to inspire Bandon's revival which produced three points on the trot, two from ace free taker James Nyhan and a fine effort from Darren O'Donoghue in between
In the 46th minute, however, all of Bandon's good work was undone when John Murphy brilliantly connected on a low ball from Denis Twomey to score a goal of rare quality for Courceys.
Leading by 1-7 to 0-7, Courceys could be forgiven for believing the had made the decisive breakthrough, but Bandon had other ideas, and they courageously shrugged off that potentially crippling body blow to come storming back in a tensions packed finish.
Their defence put up the shutters to such an extent that Courceys weren't to add to their tally in the remaining time, with Brian Hurley, Thomas Bambury and Kevin Walsh forming a rock solid full back line and Kieran Hurley going from strength to strength outside.
Meanwhile John O'Regan and Adrian O'Donovan both worked effectively at midfield, and Ger O'Donovan, who had been moved up from centre back, and roving corner forward James Nyhan made their presence felt up front where Darren O'Donoghue proved a real trump card in the closing stages.
The former Cork player picked off two superb points, the second of which resulted following good work by Donnacha Burke and proved sufficient to shatter Courcey Rovers hopes of a first title.
To their credit, Courceys, for whom Brian Downing, John O'Donoghue, Brian Hayes and Charlie White gave their all in a vain bib to stem the Bandon tide near the end, tried hard to pull the game out of the fire in the dying minutes.
Their fate was effectively sealed, however, when Thomas Bambury broke up a promising Courceys' attack with time almost up.

Bandon:: P.Prendergast, B.Hurley, T.Bambury, K.Walsh, J.Ahern, C.O'Donovan, K.Hurley, N.O'Rourke, A. O'Donovan, D. O'Donoghue, F. O'Sullivan, J.O'Regan, R. Sweetnam, D.Burke, J.Nyhan. Subs:: A.Johnson for O'Rourke, J.Burke for Sweetnam.
Courceys:: S.Hurley, B.Hayes, G.Molaney, J.O'Donoghue, T.Lordan, B.Downing, C.White, D.Hayes, L.Twomey, D.Twomey, S.Hayes, J.Hayes, B.Hayes, J.Murphy, N.Murphy. Subs:: C.O'Regan for L.Twomey.
===================================
Paths to the Final
South East Junior A Hurling Championship
Semi-Final: Kinsale Sunday August 29th
Courcey Rovers 2-17 V 0-4 Carrigaline
Final: Ballygarvan Sunday September 5th
Courcey Rovers 4-10 V 2-12 Ballinhassig
Courcey Rovers regained the Barry Collins Super Value South East Junior A Hurling Title for the third time on Sunday last with a 4-10 to 2-12 victory over arch rivals Ballinhassig.
Brian Hayes was the destroyer in chief for Courceys and his hat trick of goals broke the Ballinhassig hearts. His selection for the Donal Coleman Man of the Match was richly deserved.
Courceys had the best of the exchanges in the opening quarter but a great goal by Denis McCarthy gave Ballinhassig the lead in the 16 minute. But their lead was short lived and from the puck out Hayes gained possession to rattle Ballinhassig's net.
Coming up to half time, Hayes struck for his second goal from a penalty to give his side a 2-7 to 1-6 lead at the interval. Hayes completed his hat trick in the 41st minute and then gave John Murphy a fine pass five minutes later.
But in fairness Ballinhassig did not give up and hit over three points while a Damien McCarthy goal from a penalty was too little too late.
So Courceys are back as Kingpins of the division and are hoping to win the county title.
County Junior A hurling Championship
Semi-Final: Pairc Ui Rinn, Sunday October 24th
Courcey Rovers 1-10 V 0-10 Fr. O'Neill's