October 14th 2000 @ Ballygarvan..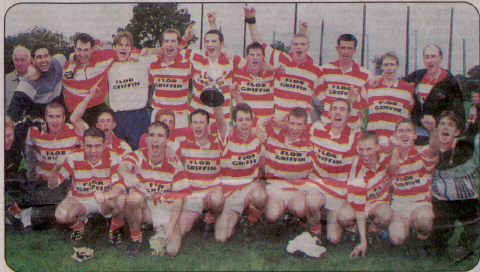 Courcey's 3-4……Kinsale 1-9

For the second time in their history, Courcey Rovers are the kingpins of Carrigdhoun football, following their convincing victory over the holders and warm favorites Kinsale on Sunday last at the Liam McCarthy Park, Ballygarvan, in the final of the South East Standard Life Junior A championship.
Back in 1997, when Courceys claimed their first title, Kinsale were also the vanquished, following a replay, but on Sunday last, while just one point separated the sides at the end of a most sporting contest, in reality Courceys should have won by a wider margin had they taken the gift chances which came their way and Kinsale, like true champions, fought to the bitter end and in added time notched a goal and a point – scores which came too late to matter because over the hour the victors were the far superior side, while Kinsale, except for brief periods, never played to their true potential.
The Courceys team was far more determined and hungry and, in truth, one could not find a weak link in their defensive unit which was both the foundation and mainstay of their success, especially the half back line of Seamus Hayes, captain, Denis Twomey and Brian Hayes, which not only defended heroically, but was often the instigator of attacking movements. Gary Maloney between the posts was very safe and he made a vital safe in added-time from Kinsale's danger man Gerard Murphy, but he got excellent cover from man of the match Nelius Murray, Sean Hayes and Jimmy Lordan. Seamus Twomey put in a wholesome hour at midfield, with both Seamus Hurley and two goal hero Brian Hayes – they both alternated at different periods over the hour. Up front, the captain of '97 Declan Murray had an outstanding game and at various times John Murphy, whose running at the Kinsale defence caused all shorts of difficulties, as was the combined play of the Hayes', Jamie and David, the latter notched a sweet goal, and Vincent Hurley.
Kinsale on the day had the hard luck of losing 'keeper Kieran Allen through injury and their sub keeper, Andrew Lynch, not fully fit, had to take over between the posts and as a result was hindered in his efforts to deal with a vital Courceys goal in the second half. Team captain Lyndon Kiely tried hard and came outfield in the last quarter in a bid to save the day, while Niall Buckley and Gearoid Condon had their moments at the heart of the Kinsale defence. Padraig Buckley started well at midfield, but went out of it as the game aged, while up front Gavin Farrissey was his side's top player and Gerard Murphy, who started at full forward, was most influential in the third quarter at wing forward, where he won good ball and tried vainly to motivate his side at a stage when the score stood at 3-2 to 0-8.
Having won the toss, Kinsale got off to a great start inside a minute, when Padraig Buckley placed Gerard Murphy for a very good score. Courceys gave an early indication of their potential when Seamus Hayes set a move in motion, which ended with John Murphy being fouled – here, if given the advantage the Courceys centre forward had a great goal-scoring chance – but the resultant 13m free by Vincent Hurley sailed wide. A sixth minute William Cummins free was followed by two bad misses by Kinsale before ever-foraging Gavin Farrissey kicked over a great score in the 10th minute.
Courceys skill content at containing Kinsale to three points, maintained their composure thanks to their excellent half back trio and by the 13th minute were on level terms, when John Murphy funneled a great ball into left corner from where Vincent Hurley centred and there to usher the ball over the line was full forward Brian Hayes. Suddenly Courceys had claimed a vital grip, but by the 17th minute Kinsale had regained a degree of relative comfort from two excellent scores kicked by Gavin Farrissey and Padraig Buckley. Good work out of defence by Brian Hayes, now at midfield, to John Murphy, whose through ball was gathered and converted by Declan Murray for a very good score and now with Sean Hayes and Nelius Murray in command at the back, the Rovers again worked their way out and forward through the combined skills of the Hayes brothers for corner forward David to punch past keeper Allen who injured himself in the process. Following that score, Kinsale rallied to enjoy a fair degree of possession only to kick some scorable chances wide, including a Cummins close-in free and a Gerard Murphy effort which referee Oliver Webb had to adjudicate on and, despite their best efforts, they had to retire 2-1 to 0-6 in arrears at the break, after William Cummins had converted a 40m. free.
Cummins had the teams tied after 33 minutes, but in reality during that period Courceys squandermania could have proven costly when they kicked four great chances wide. But in the 35th minute they were thrown a lifeline when from a kick-out, Brian Hayes grabbed possession and from his fast return, 'keeper Lynch misjudged the flight of the ball and now the Courceys were in command, as Declan Murray pounced to add on a great score to give his side a 3-2 to 0-7 lead after 36 minutes.Kinsale responding were thwarted by a solid Denis Twomey-led defence and five minutes was to elapse before Gerard Murphy, from a free off the hands, pointed and now only three points separated the sides, as once again Courceys shooting was to let them down. They continued to press, forcing three 45s before John Murphy and Declan Murray came to the rescue with two great scores to extend their lead, 3-4 to 0-8.
But credit to Kinsale, they tried gamely to save their crown and were denied by a superb interception by Nelius Murray and by the woodwork from a Farrissey effort and again by Keeper Gary Moloney who stymied Gerard Murphy when he saved at the Kinsale man's feet and with the game now in added time, Cummins pointed from a free before Lyndon Kiely gathered from a Courceys clearance, following a close-in free, to bury a low drive through a crowded goalmouth in the back of the net.
But alas, it was too little too late as Courceys greeted the final whistle as worthy and deserving champions of the new millennium. Following the game, Mr. John Twomey, chairman of the SE Board, presented the John Keating Cup to the Courceys captain, Denis Twomey.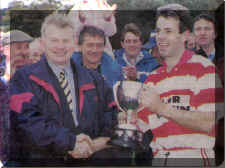 Mr. Paddy Fitzgerald, sponsor of the Man of the Match award, announced the award winner, Nelius Murray. The arrangements for the game were excellently managed by the Ballygarvan Club, while the musical entertainment was provided by the Carrigaline Pipe Band. (Southern Star)


:The Winning Team:
Gary Moloney,
Timmy Lordan, Sean Hayes, Neilus Murray
Seamus Hayes, Denis Twomey(C), Brian Hayes
Seamus Twomey , Seamus Hurley
Declan Murray(0-3), John Murphy(0-1), Vincent Hurley
Jamie Hayes, Brian Hayes(0-2), David Hayes(1-0)
Subs Used:: Michael Murray.
2000 Football Panel:: Seamus Hurley, Gary Moloney, Seamus Hayes, David Hayes, Timmy Lordan, Brian Hayes, Sean Hayes, Neilus Murray, Seamus Hayes, Denis Twomey(C), Brian Hayes, Seamus Twomey , Seamus Hurley, Declan Murray, John Murphy, Vincent Hurley, Jamie Hayes, Brian Hayes, David Hayes, Donal Twomey, Brian Lordan, Shane Lordan, Michael Walsh, Michael Murray.
=================================
Paths to the Final
1st Round@ Innishannon
Courceys V Shamrocks
2nd Round@ Innishannon
Courceys V Ballymartle
SemiFinal@ Innishannon
Courceys V Ballinhassig
SemiFinal Replay@ Ballygarvan
Courceys V Ballinhassig
Final@ Ballygarvan
Courceys V Kinsale
County Championship
1st Round@ Carrigadrohid
Courceys V Kiskeam
1st Round Replay@ Carrigadrohid
Courceys V Kiskeam