Southern Star Report. By Noel Horgan Nov.15th 1997
Courceys capture under 16 title
Courcey Rovers 3-7 V 0-5 Nemo Rangers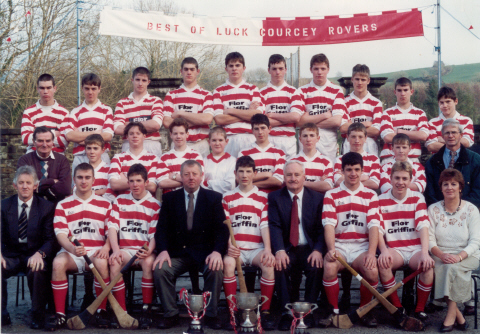 Back Row L to R: John Murphy, Colm Lawton, Billy Kiely, Breen Desmond, Darren Hunt, Kevin Deely, Mark Hurley, Michael Walsh Brian Lordan, Killian Moloney.
Middle Row L to R: Chris Corcoran, Mark Twomey, Kieran Brennan, Michael O'Donovan, Alan O'Mahony, Billy Lordan, Kevin Murphy, David Murphy, Brendan Downing, Pat Coholan.
Front Row L to R: Pat Lawton, Shane Lordan, Gearoid Coholan, Brendan Murphy, Vincent Hurley (C), Seanie O'Riordan, Niall Murphy, Donal Twomey, Margaret Lordan
Match Report
With ace attacker Niall Murphy providing much of the inspiration, Courcey Rovers became county under 16 'B' hurling champions when they finished with eleven points to spare over Nemo Rangers in an entertaining final replay at Ballygarvan last Sunday morning.
The foundations for Courceys victory were laid in the first half when they enjoyed much the better of the exchanges and were full value for a 3-5 to 0-2 interval lead. But plucky Nemo Rangers came much more into the picture after the break, and it took some sterling resistance on the part of the Courceys defence, in which Darren Hunt was a tower of strength at full-back, and Vincent Hurley, Michael Walsh and Kieran Brennan were others to stand out, to keep the city lads at bay in this period.
Without douth, however it was the impact made by Niall Murphy in attack before the break which did much to pave the way for Courceys success. Murphy opened his sides account when he converted a '65 in the 7th minute, and he tacked on two more points, one from a free, before wing-forward William Horgan got Nemo off the mark midway through the first half.
Murphy quickly replied for Courceys before finishing a strong run with a pass to centre-forward Shane Lordan, whose speculative shot from about 40 metres went all the way to the net in the 19th minute. That was the signal for Courceys to really click into top gear and, aided by further goals from wing-forward Gearoid Cohalane and Niall Murphy, they appeared to have opened up an unassailable advantage before the break.
Wing-back Kieran Brennan and midfielder John Murphy also contributed handsomely to Courceys dominance in the first half. To their credit, Nemo made a brave bid to get back in contention on the resumption when James masters and Michael Niblock took control at midfield, and gritty corner-back Gary Crowley did well to limit the threat of Niall Murphy. Ronan Murphy and John Buckley in the half-back line also shone as Nemo fairly pounded the Courceys' citadel during the third quarter.
But the Courceys defence was in defiant mood, with the result that Nemo never looked likely to grab a goal which they obviously needed if they were to pull the game out of the fire.
Nemo did manage three points during the first 20 minutes of the second half but then Courceys lifted the siege and Niall Murphy slipped over a couple of frees in the remaining time to seal their win.

Winning Team
Alan O'Mahony
Vincent Hurley Darren Hunt Michael Walsh
Kieran Brennan Vincent O'Donovan Colm Lawton
John Murphy Billy Kiely
Gearoid Cohalane Shane Lordan Brien Desmond
Billy Lordan Donal Twomey Niall Murphy
Subs used: S Nolan, Kevin Murphy, Mark Hurley