South East Cork
U21 'A' Football
Champions
2001
April 20th 2001 @ Ballygarvan..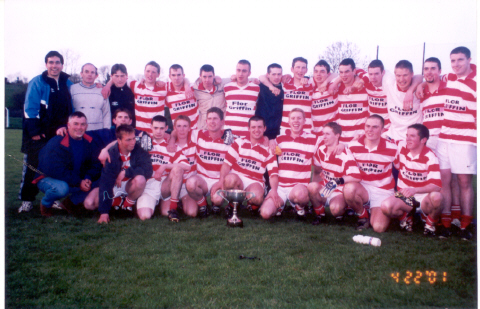 Back L to R: Donal Crowley (Selector), Liam Coughlan (First Aid), Gavin Maloney, David Murphy, Brian Lordan, Brendan McCarthy, Shane Lordan, Connor Minihane, Vincent Hurley, Vincent O'Donovan, John Murphy, Michael O'Donovan, Michael Walsh, Padraig Cahalane, Billy Kiely.
Front L to R: Donie Nyhan (Selector), Aidan Hayes (Selector), Michael Daly, Brian Minihane, Kevin Murphy, Timmy Lordan, Niall Murphy, Donal Twomey, David Hayes, Darren Hunt, Gearoid Cahalane.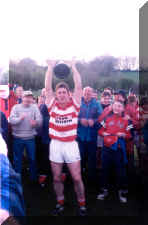 Captain Timmy Lordan
raising the cup after the match
History was made when our U21 Footballers brought the first U21 A Football Title to the Club after they beat Kinsale in a riveting and nailbiting Final. Looking back over the campaign they went to extra time in the first round against Tracton and then went to a replay in the semi-final against Valley Rovers before beating Kinsale with a last minute goal in the Final. All the following reports are taken from the Southern Star newspaper .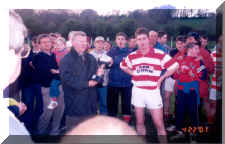 John Twomey (Chairman S.E. Board ) presenting trophy to Timmy
(Click on Photo to enlarge)
I think the whole day was a bit too much
for Selector Aidan, as he seems to be caught
for breath or else just catching flies.
South East U21 A Football Final
Courcey Rovers 2-10 V 3-6 Kinsale
Courcey Rovers captured the South East U-21 'A' football championship when they defeated reigning champions Kinsale in another thriller in Ballygarvan on Sunday last. These two sides have built up quite a rivalry in recent years and there has never been much between them, last Sunday being no exception. It took the game a while to get going but when it did both sides produced some marvellous football.
The opening exchanges were quite tame in comparison with what was to come but Courceys were on top without ever threatening the goalposts. Donal Twomey started brightly at midfield, while in attack Michael O'Donovan and Shane Lordan looked sharp for Courceys. For Kinsale, Donal Murphy looked lively up front and it was Murphy who opened the scoring in the eighth minute. A long ball from Ricky O'Hanlon was gathered by Conor O'Brien who in turn laid the ball off to Murphy and he took it round 'keeper Michael Walsh before finishing to the net.
The response from Courceys was impressive as they kicked four points without reply from Michael O'Donovan, Donal Twomey, Shane Lordan and Vincent Hurley. Courceys had their first goal chance in the sixteenth minute when Michael O'Donovan set off on a scything run through the Kinsale defence and sent a shot across the goal mouth where Darren Hunt was waiting to tap it in only for Cian Quigley to make a miraculous goal line block.
Kinsale suffered a massive blow at this stage when they were forced to replace their captain Ricky O'Hanlon after he aggravated an injury he had coming into the game.
Courceys had another goal chance in the twenty-fourth minute but Kinsale's Andrew Lynch was equal to Shane Lordan's effort. From the resultant clearance the ball found its way to Conor O'Brien who rounded his man before unleashing an unstoppable shot to the net for Kinsale's second goal. A Martin O'Sullivan free just before half time left Kinsale in front by 2-1 to 0-4 at the interval.
Kinsale had a dream start to the second half when Donal Murphy sneaked in to punch a long ball from Paul Hurley to the net. As in the first half, however, Kinsale failed to capitalise on this start and it was Courceys who were playing the better football. After a few early wides they slowly began to eat into Kinsale's lead. Points from Shane Lordan, Vincent Hurley and two from the ever-impressive Michael O'Donovan left the score at 3-1 to 0-8 entering the final quarter.
Michael O'Leary stopped the rot for Kinsale with a point in the seventeenth minute but the sides were to be level two minutes later. Darren Hunt picked up a long ball twenty yards out from the Kinsale goal and played a quick one-two with Shane Lordan before expertly finishing to the net. Donal Twomey put Courceys back in the lead with a point before Barry Grey leveled up matters when he kicked an extraordinary point from a line ball.
It was real end to end stuff at this stage and only a brave man would have picked a winner. Vincent Hurley and Martin O'Sullivan exchanged points before Michael O'Leary kicked his second point to leave Kinsale a point to the good with two minutes to go.
However, in keeping with what had gone before there was one more twist in the tale. Vincent Hurley received the ball on Kinsale's thirteen yard line before beating his man on the inside and rifling the ball to the net from an acute angle leaving Courceys two points ahead with time almost up.
There was still one last chance for Kinsale but Paul Hurley's first time effort sailed agonisingly over the bar. The final whistle went straight after this sending the Courcey followers into hysteria at the end of another absorbing contest between the two rivals. The final score left Courcey Rovers victorious by 2-10 to 3-6.
Courcey Rovers: M. Walsh, B. Minihane, V. O'Donovan, D. Murphy, G. Colane, T. Lordan, K. Murphy, D. Twomey (0-2), N. Murphy, M. O'Donovan (0-3), J. Murphy, D. Hayes, V. Hurley (1-3), D. Hunt (1-0), S. Lordan (0-2). Sub Used, B. Lordan
Kinsale: A. Lynch, C. Quigley, M. O'Sullivan, D. Barrett, M. Murphy, J. Keohane, C. McCarthy, R. O'Hanlon, M. O'Leary (0-2), P. Hurley (0-1), G. Hurley, B. Grey (0-1), M. O'Sullivan (0-2), C. O'Brien (1-0), D. Murphy (2-0). Subs, R. O'Sullivan for O'Hanlon, A. Bolster for G. Hurley.
SemiFinal Replay: Courcey Rovers 2-13 V 1-4 Valley Rovers
Tuesday April 17th @ Kinsale 6:45pm
Courcey Rovers made no mistake at the second attempt when they decisively defeated Valley Rovers in their replayed semi-final of the South East U21 Arbutus Lodge football championship at sunny Kinsale on Monday last.
On the previous Tuesday both sides had produced a trilling encounter, with the Valleys notching the equalising point at the end of normal time and then in extra time, the Courceys hit back for an equalising goal just before the final whistle.
And so the scene was set for what was to be another close affair. But it was not to be because on Monday last, the Courcey lads were on their toes from the start and set out their stall from the eight minute when wing back Gearoid Cohalan fired over their first point. Then David Hayes soled through from the kick out to punch over, before Timmy Lordan surged forward to put his name on the score sheet in the 16th minute, and then in the 20th minute, the winners established a commanding lead when full forward Vincent Hurley finished a move involving wing back Kevin Murphy and John Murphy.
Directly from the kick-out wing forward Michael O'Brien gained possession on the right wing before setting up Richard Butler, but his goal bound drive was stifled by 'keeper Michael Walsh at the expense of a 45 which Eamon Collins converted to give Valleys their first score in the 21st minute.
Courceys array of wides, nine in total in the first half, continued and still dominating in the half back line and midfield, despite the wholesome efforts of Valleys Shane O'Sullivan, they extended their lead to 1-5 to 0-1 through another David Hayes effort.
Valleys did have another goal chance just before the break, when Shane O'Sullivan and Michael O'Brien put Wille Burke through and with the goal at his mercy, the Valleys full forward shot over, to leave the score at the break 1-5 to 0-2.
Within a minute of the restart, Courcey sub, Darren Hunt, just in, pointed and with top scorer Vincent Hurley adding a brace, the winners were 1-8 to 0-2 in front at the 40th minute. Two minutes later, Eamon Collins pointed for a free before Shane Kelleher set a move in motion with Burke and sub Keith White for Richard Butler to finish to the roof of the net.
With Eoin O'Sullivan coming more into the game at centre back, the Rovers attack saw more of the action, but two bad misses slowed their progress until the 38th minute when a good cross by Shane O'Sullivan was finished by Eamon Collins to make the margin 1-8 to 1-4.
But that was to be Valleys last score, as the very confident Courceys claimed control in the last ten minutes when firstly Vincent Hurley finished a Niall and John Murphy movement to the back of the net, and in essence that was that. The ever lively Michael O'Donovan gathered from a quickly taken free to point, with Donal Twomey and Hurley (2) the final providers of the side's impressive tally. Courceys now meet Kinsale in the final on Sunday next at Ballygarvan.
Referee: O. Webb, Tracton


SemiFinal Courcey Rovers V Valley Rovers
(After Extra time)
Tuesday April 10th @ Kinsale, 6:30pm
Report is needed for this game


1st Rd. Courcey Rovers 1-17V 1-9 Tracton
(After extra time)
Saturday March 31st @ Riverstick, 6:45pm

A formidable display of point-shooting in extra-time by Courcey Rovers finally shook off the stubborn challenge of Tracton in the South-East Arbutus Lodge Hotel U21 A Football Championship at Riverstick on Saturday last.
Tracton's Bernie Kelleher came desperately close to snatching victory when his last minute free came back off the upright and the chance of an upset had been lost. A minute before that Vincent Hurley equalised to make the scores 0-10 to 1-7 but no one could deny a splendid extra time display by Courceys to advance to the semi-final against Valley Rovers.
Courceys began in dominant fashion and, inspired by Hurley at full forward – who scored twelve points on the night – shot into a 0-3 to 0-1 lead after twenty minutes. With Donal Twomey and Billy Lordan workmanlike at midfield and a rampant forward division supplying all the necessary ammunition to their main threat, Hurley, a rout looked on the cards. However, Tracton began to weave some neat moves together with their half forward line of James Finn, Bernie Kelleher and Kieran Lynch particularly impressive.
By the 22nd minute, Kelleher had leveled matters and though losing the influential Seán O'Sullivan at full forward, Tracton had more than an adequate replacement in Frank Lynch. Indeed, Lynch provided the score of the game in injury time when picking up a long ball from Kieran Lynch, he planted an unstoppable shot beyond Michael Walsh.
The second half was a very tense contest, played at a frantic pace and, after twenty minutes, Courceys had leveled matters. With Donal Twomey exerting a greater influence around midfield and David Murphy and Conor Minihane marauding up the wings, chances began to manifest more easily. Three points in succession from Vincent Hurley, who was causing endless problems for Tracton, brought the sides back to parity again at 0-8 to 1-5 and it was fitting that the lead score should fall to Hurley again in the 53rd minute when he was upended following a near perfect pass from Gearóid Coholan.
The game was now entering a critical stage as both sides fought with dogged determination for possession. Tracton's Kevin Cronin and Aidan Maher at midfield were becoming more prominent in their respective positions and spurred on by their strong play, they established the lead again in the 54th minute. Bernie Kelleher who had a somewhat indifferent night from frees, landed a beauty from thirty-five metres and seconds later Patrick Quinn knocked over another impressive score set-up splendidly by the ever-improving Frank Lynch.
With only a minute remaining, Tracton looked set for victory but there was to be yet another twist on a night of high drama. Conor Minihane was adjudged to have picked the ball off the ground inside his own half and with Vincent Hurley in buoyant mood, he was never going to miss a golden opportunity of an equaliser. Hurley converted and with time running out, Kieran Lynch was grounded about forty metres form goal but Bernie Kelleher's attempt bounced off the upright to bring this game into extra-time.
Expecting a thriller of sorts, Courceys laid the foundations for this victory during the first period and after Hurley opened the scoring, Michael O'Donovan set up Gearóid Coholan for the all-important goal. However Tracton failed to give up hope at this stage and points from Kieran and Frank Lynch, narrowed the gap to two points. And they could have had a goal when Hurley was blocked heroically by Finbarr Kelleher.
It was plain sailing for Courceys after this who clocked up seven unanswered points in a contest that had a great degree of sportsmanship all through, only to be marred by the sending off of Alan Jagoe near full time.
Courcey Rovers: M. Walsh, B. Minihane, V. O' Donovan, M. Daly, D. Murphy, T. Lordan, C. Minihane, D. Twomey (0-1), B. Lordan (0-1), D. Hayes, M. O' Donovan (0-2), G. Coholan (1-1), K. Murphy, V. Hurley (0-12), S. Lordan. Subs: C. Moloney, B. McCarthy
Tracton: F. Kelleher; A. Jagoe, P. Kelleher, M. Piggott, J. Lyons, K. Cronin, J. Kingston, A. Maher, D. Walsh, J. Finn, B. Kelleher (0-6), K. Lynch (0-1), P. Quinn (0-1), S. O' Sullivan, S. Wrenne. Subs: F. Lynch (1-1), T. Collins.
Referee, B. Keohane, Ballinhassig.
Southern Star newspaper
===============================
County U21 Championship 2001
Quarter Final
Courcey Rovers 1-10 v 0-12 Clyda Rovers
Report Needed for this match
Semi-Final
Courcey Rovers V Nemo Rangers
Date to be arranged