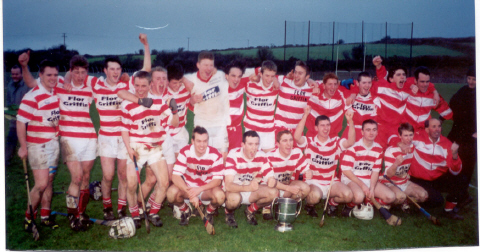 Southern Star, Saturday, 13th December 1997.
Inspired Courceys worthy champions.
First County title at adult level.
Courcey Rovers 3-10 St. Finbarr's 1-5
Courcey Rovers added a very special chapter to their fifty year history at Riverstick on Sunday last, when they inflicted a most decisive defeat on pre-match favorites St. Finbarr's, in the final of the Cork County U21 A Hurling Championship.
By virtue of this historic victory, Courcey Rovers have now entered the hallowed hall of fame of Cork U21 hurling for the first time, both for their club and the Carrigdhoun division. Played in the presence of a big attendance and on the excellent sod of Ballymartle's new pitch, this U21 final marked the coming of age and the exaltation of Courceys.
Because, make no mistake about it, the South-East champions were streets ahead of their city counterparts on this occasion, and Courceys' achievements was all the more remarkable in that they had to lift themselves from the depths of disappointment of losing the County Junior A Hurling Final on the previous Sunday by the minimum of margins and full credit must not only go to the side – which contained eight players who had battled with Castlelyons – but also to their mentors and club officials who had them perfectly primed for Sunday's final.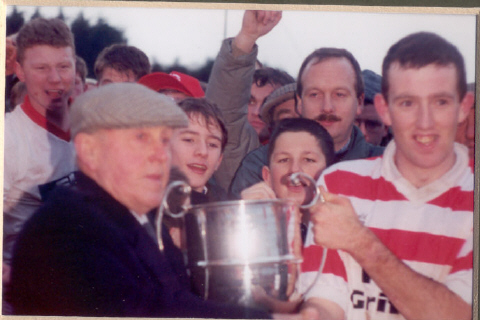 Many observers expected that St. Finbarr's would outfox the Courcey combination in the open expanses of the Riverstick pitch, and together with the city side's level of achievement at this grade – that tradition would carry the day.
But the Courceys had other ideas. Above all they believed in themselves that they could do it and no doubt their involvement in the hurling arena over the weeks gave them the competitive edge.
Their defence was leak-tight and gave 'keeper Seamus Hurley excellent cover. Even though they lost full-back Gary Moloney after only seventeen minutes, with a finger injury, Niall O'Donoghue who stepped into the breach played a captains part in equally policing the 'Barrs big threat, John Dolin, at full-forward.

In reality the Barrs highly rated attack got very little space and only James McCarthy and to a lesser extent Cathal McCarthy who was closely marked by the outstanding Seamus Hayes and Kevin Kelleher got any look in. But in this papers view the man of the match was Courceys' centre halfback Anto Hegarty who hurled with authority throughout the hour. Once again Adrian Collins was safety personified at corner-back, while substitute Vincent Deely acquitted himself very well at wing-back, while his brother Seamus, improved his performance when shifted to corner forward.
Courceys also ruled the roost at midfield for lengthy periods, where the skilful David Hayes – his line cuts were again top class – and the hard working Liam Twomey were seen to god effect. The Rovers attack certainly stole the show on Sunday last, with sixteen-year-old Niall Murphy and Timmy Lordan showing their pace and scoring skills throughout. Connie O'Regan on the '40 had a very good outing, where his strength and strong running created the space for scores.
Brian Murphy too was an inspirational figure and together with Brian Hayes and David Nolan they kept the ball moving swiftly in the environs of the 'Barrs goalmouth.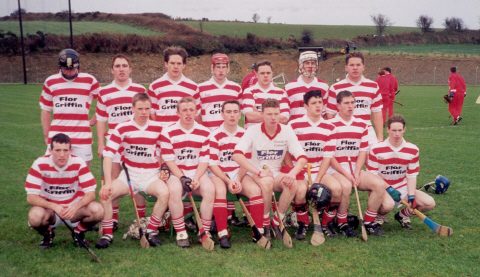 ::The winning team::
Seamus Hurley,
Adrian Collins, Gary Moloney, Seamus Hayes (0-1),
Niall O'Donoghue, Anto Hegarty, Seamus Deely,
David Hayes (0-1), Liam Twomey (0-1),
Timmy Lordan (1-2), Connie O'Regan (0-1), Niall Murphy (1-2),
Brian Murphy (1-1), David Nolan, Brian Hayes (0-1).
Sub used:: Vincent Deely
U21 Hurling Panel 1997:: Seamus Hurley, Adrian Collins, Gary Moloney, Seamus Hayes, Niall O'Donoghue, Anto Hegarty, Seamus Deely, David Hayes, Liam Twomey, Timmy Lordan, Connie O'Regan, Niall Murphy, Brian Murphy, David Nolan, Brian Hayes, Vincent Deely