The Hairiest ever Team to play for Courceys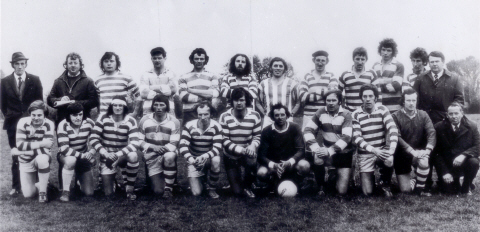 (God their a cute bunch)
March 1974 V Bantry, the last year playing South-West Football,
This team won the SouthWest B Football Championship in 1973
Back Row L to R: Pete O'Donovan, Brendan Murphy, John O'Brien, John O'Donovan, P.J. Minihane, Oliver Crowley, Jimmy Nyhan, Liam Hurley, Vincent Crowley, Jerry Deasy, Gerry Murphy, Paddy Fitzgerald.
Front Row L to R: Miah Collins, Gerard Collins, Teddy Nyhan, John Nyhan, Teddy Harrington, Donal O'Donovan, Billy Nyhan, Mick Murphy, Martin Nolan, Jimmy McCarthy, Tommy Cahalane (RIP).