Cork County Junior A Hurling Final
Courcey Rovers 3-9 V 3-7 Chareville
Pairc Ui Chaoimh
Sunday 11th November 2001
Courcey Rovers must have feared that they were about to re-live the
nightmares of '97 and '99 as this marvellous TSB county junior hurling final
clash with Charleville drew to a close at Páirc Uí Chaoimh last Sunday.

Clinging to a two point lead, the South-East side found themselves fighting
a rearguard action as Charleville went all out in search of the
match-winning goal, but the heroics of Anto Hegarty between the sticks meant
that there was to be no repeat of the single point defeats endured by
Courceys at the hands of Castlelyons and Bandon in their previous two
appearances in the decider.

Hegarty's marvellous save from Charleville midfielder Brian Foley with
little over three minutes of normal time remaining effectively sealed
victory for Courceys, and, in addition to an almost equally superb stop from
full forward Mervyn Gammell some six minutes earlier, it made him an
automatic choice for the man-of-the-match accolade.

In light of their traumatic experiences in recent seasons, nobody could
begrudge Courceys their overdue hour of glory, and, while Charleville went
agonisingly close to pulling the game out of the fire, one would have to say
that, on the overall run of the play, the laurels rested where they belonged
at the finish.

The fact is that Courceys, recovering from a potentially disastrous start
which saw them concede two goals and fall eight points adrift inside 13
minutes, looked the more convincing side for most of the hour, and they
weren't unduly flattered after a cracking goal by John Murphy propelled them
into a 3-8 to 2-6 lead midway through the second-half.

It seemed as if Courceys were ready to cruise home at that stage, but the
picture changed after Charleville's John Quinlan rattled the net at the
other end two minutes later to prompt a renewed effort by the North-Cork
kingpins, and set the scene for a nail-biting conclusion to a final that, in
terms of, excitement, skill and sheer commitment, could be favourably
compared with any seen at this level in the past.

That the fancied Courcey men were under enormous pressure going into
the match is beyond dispute, and it probably accounts in part for their
jittery play during the opening exchanges.

At the same time, there was much to admire about the quality of
Charleville's hurling after they were boosted by a fortuitous goal in the
sixth minute when a high shot from John Quinlan struck the upright, and
corner-forward John Collins was perfectly positioned to bat home the
rebound.

Within seconds, Quinlan availed of slack defending to gather a through ball
from centre-forward Martin Aherne and steer it past the helpless Anto
Hegarty from close range, leaving Courceys, enjoying whatever advantage
there was from a slight wind, with a hill to climb.

Although Niall Murphy, placed by full forward Brian Hayes, got Courceys off
the mark with a good point a minute later, Charleville, with their
confidence soaring, continued to dictate matters, adding points per Martin
Aherne and John Quinlan to lead deservedly by 2-3 to 0-1 after 13 minutes.

Quinlan and full forward Mervyn Gammell looked capable of wreaking havoc
against a most uncertain Courceys' last line of defence early on when Martin
Aherne, who had a hand in the lead-up to both Charleville goals, likewise
made a big impact on the '40.

In addition, Brian Foley hurled very strongly at midfield, and Charleville
were quick to establish control too in the half back line where Claude Gough
was particularly prominent on the left wing.

In a bid to ease their problems in the full back line, Courceys moved John
O'Donoghue on to John Quinlan in a switch with Brian Hayes, who immediately
settled down to play a fine game in the left corner.

It was primarily due to improved play by Timmy Lordan at centre back,
however, that Courceys managed to arrest their slide as he gradually got the
better of Martin Aherne, reducing the supply of ball to Charleville's inside
line of attack significantly in the process.

David Murphy, who prevented highly-rated wing forward Tomas Fitzgibbon from
making a worthwhile impact, and Vincent Hurley both showed up well on the
flanks from the outset, and they maintained their good form as Courceys
began to dominate in the half back line entering the second quarter, with
the result that Charleville had to wait all 15 minutes for their next score.

The decision to bring Niall Murphy from the left corner to right half
forward yielded rich dividends too for Courceys as he went on to prove quite
a handful for Charleville's Claude Gough while Brian Hayes also benefited on
going from full forward to the left corner.

The result of it all was that Courceys began to warm to their task, and it
was obvious that a recovery was under way after Niall Murphy and Brian Hayes
landed points in quick succession, and good work by Hayes allowed John
Murphy to deliver a precision cross from the left to Michael O'Donovan, who
shrugged off the attentions of his marker to find the net in the 18th.
minute.

Niall Murphy, Brian Hayes and John Murphy were all motoring well up front at
that stage, and the indications were that Courceys would be capable of
erasing the deficit before half-time.

With Charleville 'keeper, Martin O'Keeffe, proving equal to a shot from
centre forward Denis Twomey, however, and Niall Murphy, who should perhaps
have taken his point, having an effort for goal from a close-in free saved,
Courceys didn't raise another flag until the 25th. minute when Twomey placed
wing-forward Seamus Hayes for a point.

And Charleville managed to lift the siege as the first-half drew to a close,
with ever-menacing full forward Mervyn Gammell winning a free which produced
a point from John Quinlan, and tacking on a fine score from play himself to
leave Courceys trailing by 2-5 to 1-4 at the break.

But Courceys were very quickly into their stride on the resumption, with
Brian Hayes, a constant threat at right corner forward, flashing over a
score within seconds, and Seamus Hayes winning possession from the puck-out
to launch an attack which saw Brian Hayes set John Murphy up for another
point.

Mervyn Gammell, now faced by substitute Gary Moloney, replied with a point
for Charleville in the 33rd. minute, but the North-Cork men were forced to
endure another lengthy barren spell after that, and, in truth, Courceys
appeared to hold most of the aces in the third-quarter.

With Seamus Hayes making his presence felt on moving out from wing forward
for the second-half, Courceys enjoyed a definite edge at midfield where the
tenacious Seamus Twomey never allowed Alan O'Connor, from whom Charleville
were expecting so much, to get into the game.

David Murphy, Timmy Lordan and Vincent Hurley continued to keep their end up
well in the half-back line, and Niall Murphy, John Murphy and especially
Brian Hayes remained major thorns in an overworked Charleville rearguard.

In the circumstances, it was no great surprise when Courceys finally managed
to hit the front, 2-7 to 2-6, thanks to goal-poacher supreme Michael
O'Donovan, who took his chance with style following a clearance by David
Murphy, unquestionably one of the most consistent performers on view over
the hour, in the 38th. minute.

A Niall Murphy point from a free soon followed, and the die appeared to be
well and truly cast for Charleville after another delivery by David Murphy
led to the opening for the best goal of the match scored by John Murphy at
the three-quarter stage.

They were thrown a lifeline two minutes later, however, by John Quinlan's
superb strike which had the twin effect of revitalising Charleville and
unsettling Courceys, and it was heartstopping stuff all the way to the
finish.

Mervyn Gammell carried the main threat up front in the closing stages for
Charleville, who, after Anto Hegarty foiled Gammell with a great save at the
expense of a '65 which John Quinlan converted, should have drawn level when
Quinlan failed to find the target from an easy free in the 52nd. minute.

Substitute John Murphy, fed by his namesake, pushed Courceys two points up
approaching the last five minutes, and then Anto Hegarty became the toast of
Courcey's when keeping out a rasper from Brian Foley.

While Courceys came under a share of pressure after that, the steadiness of
their defence ensured that they weren't going to be denied an historic
triumph, and indeed they had a golden chance to wrap things up when
substitute John Murphy fumbled possession with a clear path to goal before
excellent referee Cathal McAlister brought the curtain on an absolutely
enthralling encounter.

Scorers – Courcey Rovers: M. O'Donovan 2-0, J. Murphy 1-1) N. Murphy 0-4,
0-2 frees, B. Hayes 0-2, S. Hayes and J. Murphy 0-1 each. Charleville: J.
Quinlan 2-4, 0-3 frees, J. Collins 1-0, M. Gammell 0-2, M. Aherne 0-1.

Courcey Rovers: A. Hegarty, B. Hayes, N. O'Donoghue, J. O'Donoghue, D.
Murphy, T. Lordan, V. Hurley, C. White, S. Twomey, S. Hayes, D. Twomey, J.
Murphy, M. O'Donovan, B. Hayes, N. Murphy. Subs, D. Hayes for White, G.
Moloney for N. O'Donoghue, J. Murphy for D. Twomey.

Charleville: M. O'Keeffe, T. McAuliffe, D. Fitzgerald, P.J. Copse, N.
O'Keeffe, J. O'Donnell, C. Gough, B. Foley, A. O'Connor, P. Gammell, M.
Aherne, T. Fitzgibbon, J. Collins, M. Gammell, J. Quinlan. Sub, S. McSweeney
for Collins.

Referee, C. McAlister, Midleton.


Cork County Junior A Semi Final
Courcey Rovers 1-9 V 0-8 Diarmuid O'Mahuna's
Riverstick Sunday 21st 3:45pm
Report is coming
Cork County Junior A Hurling Quarter Final
Courcey Rovers 6-17 V 2-7 Grenagh
Pairc Ui Chaoimh 30th September 2:00pm
Runners-up to Castlelyons in '97, Courcey Rovers provided ample evidence that they have the potential to go one better when they thrashed Grenagh in last Sunday's TSB county junior hurling championship quarter-final at Páirc Uí Chaoimh.
It was a pillar-to-post win by the South-East kingpins, but, to be fair, Grenagh battled hard in the first-half, and would probably have made a much better game of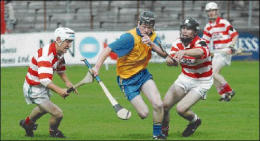 it had the fates not frowned on them shortly before the interval.
With the score at 3-9 to 2-5 in Courcey's favour, Grenagh squandered a golden opportunity when centre-forward Seamus Coleman booted the ball outside the posts with a goal at his mercy in stoppage time.
[Picture::Grenagh's wing forward Diarmuid Dorgan breaks through Courcey Rovers' Charlie White and John Murphy during the county junior hurling championship game at Pairc Uí Chaoimh on Sunday last. ]
Following the puck-out, Courceys' centre-forward Denis Twomey picked up possession to pump a speculative delivery goalwards which Grenagh's otherwise flawless netminder, Martin Barry, allowed to slip from his grasp and trickle over the line.
That brace of body-blows meant that Grenagh, instead of going in at the break just four points adrift, found themselves ten in arrears, 4-9 to 2-5.
And before they could renew their challenge on the resumption, Courceys' corner forward Michael O'Donovan blasted in a 32nd. minute goal to finish the game as a contest.
O'Donovan, a Cork minor panelist this year, had proved a major thorn in the Grenagh defence from the outset, bagging a goal, following great work by Denis Twomey, which propelled Courcey's into a 1-4 to 0-1 lead after 8 minutes.
Twomey, John Murphy, Seamus Hayes and Brian Hayes were others to show up well in attack early on, and, with David Murphy, Vincent Hurley and Gary Moloney quick to establish control in the half-back line, Courceys appeared to hold most of the aces.
The stylish Tom Kenny kept the Grenagh flag flying however, at midfield, where Seamus Twomey achieved most for Courceys, and improved play from Mark Kenny at centre-back, and Diarmuid Dorgan and Seamus Coleman in the half forward line, enabled the Mid-Cork men to arrest their slide towards the end of the opening quarter.
After Coleman made the opening for a well-taken goal by corner forward, Dan O'Riordan, in the 11th. minute, the gap was down to three points, 1-5 to 1-2, but the threat from Michael O'Donovan surfaced again two minutes later when he presented Brian Hayes with a gift chance which the Courcey's full forward duly made the most of.
O'Donovan also did the spadework for Courceys' fourth goal, scored by Seamus Hayes, which made it 3-8 to 1-5 after 29 minutes, and when centre back Vincent Hurley quickly added a point from a long-range free, Grenagh appeared to be in dire trouble.
Their hopes were rekindled, however, when Tom Kenny made an inspirational run from midfield before parting to full-forward, John Russell, whose rasping drive from close-range was kept out by Courceys' 'keeper, Anto Hegarty, and Dan O'Riordan was on hand to knock the rebound home.
But then came the twin set-backs which did so much to undermine Grenagh's prospects before half-time, and they fell apart completely after the irrepressible Michael O'Donovan latched on to a long ball from midfielder Charlie White to rifle in goal No. 5 for Courceys within two minutes of the restart.
It was plain sailing after that for the winners, and picking off the points virtually at will, they had put 5-17 on the board before Seamus Coleman broke Grenagh's second-half duck in the 56th. minute.
John Russell pulled another point back for Grenagh, but Courceys had the last word when John Murphy rattled the net to complete the rout in the dying seconds.

Courcey Rovers: M. O'Donovan 2-3, 0-1 free, B. Hayes and J. Murphy 1-4 each, D. Twomey 1-1, S. Hayes 1-0, N. Murphy 0-3 frees, V. Hurley, free, and D. Murphy 0-1 each.
Grenagh: D. O'Riordan 2-0, Diarmuid Dorgan 0-3, 0-2 frees, S. Coleman 0-2, T. Kenny and John Russell 0-1 each.

Courcey Rovers: A. Hegarty, B. Hayes, N. O'Donoghue, J. O'Donoghue, D. Murphy, V. Hurley, G. Maloney, C. White, S. Kearney, J. Murphy, D. Twomey, S. Hayes, M. O'Donovan, B. Hayes, N. Murphy. Subs, B. Downing for N. O'Donoghue, T. Lordan for Maloney, L. Twomey for Kearney, D. Hayes for N. Murphy.

Grenagh: M. Barry, E. Ryan, A. Foley, P. Buckley, Donie Dorgan, M. Kenny, K. Kenny, T. Kenny, Jerry Russell, Diarmuid Dorgan, S. Coleman, Donal Daly, P. McDonnell, John Russell, D. O'Riordan. Subs. C. Keohane for Buckley, A. Dorgan for Daly, Dave Daly for Ryan, R. McMahon for McDonnell.
Referee. W. Horgan, Brian Dillons.


South East Final
Courcey Rovers 1-12 V 0-8 Ballinhassig
Sunday 2nd September Kinsale 3:45

A further report on this match is due
The South East junior A Barry Collins Super-Valu hurling championship final of 2001, which was played at the well-prepared Jack Barrett Park, Kinsale, on Sunday last, will be remembered for all of the wrong reasons, following the nasty scenes which developed after the final whistle, when players and supporters became embroiled with fists and hurleys, and, while it finished quickly, it no doubt left a sad memory on what should have been an enjoyable occasion. Such ugly scenes have no place in sport, but, no doubt, officialdom in the South East GAA will carry out their own investigations and will issue their findings later.
The game itself never rose above the ordinary between two sides who have been to the forefront of South East hurling over the past ten years. It was fought out with a rare intensity, the exchanges were hard and close, as referee Sean Collins tried to keep matters calm, and as a result we saw very little open hurling, and such was the tension of the exchanges, that eventually the bubble burst after the final whistle, but, as already stated, it was no excuse for such an aftermath.
Holders, Ballinhassig, entered the fray minus the services of their captain Brendan Lombard due to suspension and having lost the county final last year by the minimum of margins, were hoping to achieve that elusive title this season.
But on the day, Courceys, divisional runners-up by the narrowest of margins last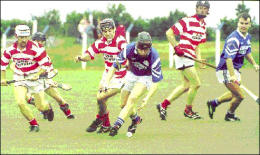 year, were finely tuned for Sunday's contest and while they too could point to having to line out without some key players, they more than made up for that as they showed greater bite and in their side they had the man of the match Niall Murphy who punished the Blues with his superb free-taking, notching eight points in all.
Ballinhassig, who had their free-taker Diarmuid Duggan sent off for an off-the-ball incident after 33 minutes, can have little excuse, when one considers that they could only notch one point from play over the hour. But, no doubt, Ballinhassig, with the advantage of the fresh breeze, will look back on the opening half as being the period when they did have the chances of goals, but some poor finishing by their full forward line, allied to the tight marking of Courceys full backs and 'keeper Anto Hegarty, kept them at bay in an area where the exchanges were hard and close. With Colin Horgan and John O'Sullivan doing relatively well at midfield and wing forwards Darren Dineen and Declan O'Sullivan winning good possession on the flanks, the holders should have been in front at the end of the first quarter, but as it was the score stood at 0-4 to 0-1 in Courceys favour as the red and white brigade took all of their chances through Niall Murphy's accuracy and a Seamus Hayes effort from play, while Ballinhassig's only reward was a Diarmuid Duggan point from a free.
Courceys maintained that three point margin throughout the second quarter thanks to the superb hurling of Vincent Hurley at centre back, Gary Moloney on the wing, while Charlie White continued to get in some good work at midfield. Up front, Denis Twomey on the 40, Brian Hayes at full forward and Michael O'Donovan, who scored a great point from an acute angle in the 26th minute, were all hurling well. After Duggan and Murphy had again traded points, Ballinhassig's Brian O'Sullivan converted a 65 on the half hour mark to make it 0-7 to 0-4. With the Blues reduced to 14 players shortly after the break, the Rovers rearguard was now ready to take on any challenge from the Blues and while new free-taker John O'Sullivan did narrow the gap to 0-7 to 0-5 after 34 minutes, the winners again pulled away with Niall Murphy's free taking yielding another three scores, as they opened up an 0-10 to 0-5 lead entering the last quarter.
But Ballinhassig did try gamely to pull the game out of the fire and, with the O'Sullivan brothers and Colin Horgan to the fore, sub Damien McCarthy, just in, earned a free in the 45th minute, which John O'Sullivan converted and then his brother, Brian, landed a mighty free from midfield to make it 0-10 to 0-7 with ten minutes remaining. Any hopes that the holders might have harboured were quickly dashed when, following good work by the industrious Denis Twomey and reliable Vincent Hurley, we saw sub Jamie Hayes loft over a great score from the left flank and then Murphy converted for a foul on the lively Michael O'Donovan with six minutes to go, and whilst that was happening at one end, at the other end we saw Courceys full back Niall O'Donoghue red-carded for an off-the-ball incident. Courceys continued not only to contain their opponents through their wonderful back-up play which saw Samuel Hayes back in defence, Vincent Hurley and Seamus Twomey repel the Blues, and as a result, the new champions reaped their reward in the 58th minute when Seamus Hayes blocked down a Ballinhassig defender to lay on the pass for Michael O'Donovan who, from close range, billowed the net giving reliable 'keeper Martin Coleman no chance and then on there was no doubting Courceys victory.
Following the game, Mr. John Twomey, SE Board chairman, presented the cup to the victorious Courcey Rovers captain, Denis Twomey, while Mr. Donal Coleman, sponsor, presented the man of the match award to Courceys superb free-taker Niall McCarthy. Music for the occasion was supplied by the Carrigaline Pipe Band.
Scorers - Courcey Rovers: N. Murphy 0-9, 0-6 frees, 0-2 65s, M. O'Donovan 1-1, S. Hayes and J. Hayes 0-1 each.
Ballinhassig: D. Duggan 0-3 frees, B. O'Sullivan 0-2, 0-1 65, 0-1 free, J. O'Sullivan 0-2 frees, D. O'Sullivan 0-1.
Courcey Rovers: A. Hegarty, B. Hayes, , N. O'Donoghue, J. O'Donoghue, D. Murphy, V. Hurley, G. Moloney, C. White, J. Murphy, N. Murphy, D. Twomey, S. Twomey, M. O'Donovan, B. Hayes (KK), S. Hayes. Subs, J. Hayes for J. Murphy, B. Downing for D. Murphy.
Ballinhassig: M. Coleman, J. Holland, M. Cussen, B. O'Sullivan, S. McCarthy, D. Healy, J. Mullaney, C. Horgan, J. O'Sullivan, D. Dineen, P. Lombard, D. O'Sullivan, D. Duggan, D. Lombard, D. McCarthy. Subs, Damien McCarthy for P. Lombard, S. McCarthy for Ds. McCarthy.
Referee, S. Collins, Carrigaline.
Preview of South-East Hurling Final
IT'S the old firm of Ballinhassig and Courcey Rovers who will once again line out in the final of the South East junior 'A' Barry Collins Super Valu hurling championship at the Jack Barrett Memorial Park, Kinsale on Sunday next at 3.45 p.m. The final will be preceded by the county junior 'B' hurling qualifier at 2 p.m. between Crosshaven and Belgooly.
Both Ballinhassig and Courcey Rovers have been the top junior clubs in Carrigdhoun throughout the '90s, with Ballinhassig being crowned on seven occasions since 1991 and Courceys the champions, on three occasions. The roll of honour reads thus: 1991, 1992, Ballinhassig; 1993, Courcey Rovers; 1994, 1995, 1996, Ballinhassig; 1997, Courcey Rovers; 1998, Ballinhassig; 1999, Courcey Rovers; 2000, Ballinhassig.
Last year, at Camden, the Blues emerged victorious on the score 1-10 to 1-9, following a tough, close encounter, where there was little room for frills. Last year's line-outs were:
Ballinhassig: M. Coleman, S. McCarthy, M. Cullen, B. O'Sullivan, J. Aherne, B. Lombard, D. Healy, C. Horgan, J. Mullaney, T. Coleman. 0-2; D. Dineen 0-2; J. O'Sullivan, S. McCarthy 0-2; D. Lombard 1-0; D. Duggan 0-4. Subs. D. McCarthy for S. McCarthy; M. Ahern for D. Lombard; P. Lombard for C. Horgan.
Courcey Rovers: S. Hurley, B. Hayes (C.P.), G. Moloney, J. O'Donoghue, T. Lordan, V. O'Donovan, S. Hayes 0-2; S. Twomey 0-1; D. Hayes, J. Jnr. Murphy, D. Twomey, B. Hayes (K.K.) 0-2; J. Murphy, C. O'Regan, D. Twomey 0-2. Subs. V. Hurley for C. O'Regan; P. O'Neill for D. Twomey; M. O'Donovan for B. Hayes (K.K.); J. Hayes, 1-2, for J. Murphy.
This season, Ballinhassig, the holders, have had two games against Valley Rovers with the Rovers having re-emerged via the back door, following a victory over Kinsale. Both games were of little value to the Blues, as they ran out relatively easy winners on both occasions - the second on Sunday last on a score of 1-17 to 1-2, with Declan O'Sullivan, 0-5, Diarmuid Duggan 0-7 and the experienced Damien McCarthy 1-0, the main providers.
Courceys path to the final was via Carrigaline and Ballygarvan, the latter game on Sunday last on a huge victory margin of 4-17 to 1-6. here Niall Murphy contributed a massive total of 2-11 with Seamus Hayes and Michael O'Donovan the other goal poachers. According to selector Chris Corcoran, Courceys will enter the fray on Sunday as under dogs and he maintains that they will really have to up their game in the final if they are to have any chance of regaining the title. We will, he declared, be lining out without six of last year's side, keeper Seamus Hurley, injured; David Hayes, on holidays; Timmy Lordan, student work in U.S.A. while John Jnr. Murphy, Vincent O'Donovan are absent for various reasons. However, despite all of this, coach Seanie O'Brien, together with the other selectors, John O'Brien and Kevin Hannon, having worked hard to blend their side for the final, and will welcome back Niall Murphy, just recovered from injury and who also missed the 2000 final (injured) together with the experienced Brian Downing and Charlie White and Anto Hegarty, who has taken over the goalkeeping duties. Denis Twomey will captain the side, while Cork intermediate players, Seamus Hayes and Niall Murphy, the O'Donoghue brothers, Barry McCarthy, Vincent Hurley, Jamie Hayes and Brian Hayes (C.P.) will form the nucleus of Courceys championship bid.
Ballinhassig, the form team to retain their title, have been going very well in training and practice games but the news from their camp, according to Martin Coleman, is rather grim, with full back Martin Cussen definitely out through injury, sustained in a recent football game, and with centre half back and Cork U 21 player, Brendan Lombard, awaiting his fate from officialdom regarding his suspension - he watched last Sunday's game from the bank - having had a personal hearing on Monday night last with the South East Board, it could mean that the Ballinhassig backroom team of Martin Coleman, Patsy Galvin, Sean Quinlan, Pat Desmond and Peter Brennan have to seal the spinal cord of their defence. Midfield too, will be minus James Aherne, sent off on Sunday last and while the panel has trained hard, and is in fine physical shape, under the guidance of well-known local athlete Martin McCarthy - no doubt the absence of such prominent players, could have an unsettling effect on the side. Nevertheless, Ballinhassig have some excellent hurlers throughout, with Cork minor keeper Martin Coleman in top form. Stephen McCarthy, Brian O'Sullivan and Declan Healy are solid defenders. John Mullaney is playing great hurling this season at midfield, while up front the O'Sullivans, John and possibly 17-years-old Declan, Darren Dineen, Diarmuid Duggan, Damien McCarthy and possibly Seanie McCarthy could pose problems for the Courcey defence. Missing from the attack from last year is Tadhg Coleman, who is in the USA for the summer. Despite Ballinhassig's "problems" one has to take into account that they are the form side, and at the end of what should be a very close game, our vote goes to the Blues to retain the title. Finally, the man of the match award will again be sponsored by Donal Coleman of Half-Way, Ballinhassig.
Fixture: South East junior 'A' football at Brinny, Sunday, September 16th,
Kinsale v. Courcey Rovers (holders) at 3.45 p.m., preceded by junior 'B'
hurling championship final, Ballinhassig v. Tracton, 2 p.m.



Semi Final South East Championship
Courcey Rovers 4-17 V 1-6 Ballygarvan
Sunday 26 August Shanbally @ 7:00
Courcey Rovers eased through to the final of the South East junior A hurling
championship with an impressive performance against Ballygarvan in Shanbally
on Sunday night last. Ballygarvan did have their chances in the early stages
of the game but were not able to take advantage of them and the result was
never really in doubt from as early as the fourth minute when Niall Murphy
billowed the net from a twenty-one yard free.
Moments earlier, Murphy had opened the scoring from another placed ball and
another free soon after the goal had Courceys 1-2 to 0-0 ahead after seven
minutes of play. Joe Kennefick opened Ballygarvan's account with a free in
the eighth minute before Vincent Hurley of Courcey Rovers had the game's
first score from play in the thirteenth minute. Niall Murphy added to this
moments later with his first score from play before two frees from Joe
Kennefick left his side trailing by 0-3 to 1-4 at the end of the opening
quarter.
Brian Daly had a good goal chance for Ballygarvan but his effort was well
blocked by Anto Hegarty in the Courceys goal. A Joe Kennefick free for
Ballygarvan was sandwiched by two Niall Murphy frees to leave Courceys 1-6
to 0-4 in front with half time fast approaching.
With the thirty minutes up, Courceys struck a major blow to Ballygarvan's
chances when Michael O'Donovan raced through the defence before sending the
ball to the bottom corner of the Ballygarvan net to give his side a half
time lead of 2-6 to 0-4.
Niall Murphy and Joe Kennefick exchanged frees in the opening moments of the
second half before further points from Murphy and Seamus Hayes gave Courceys
a 2-9 to 0-5 lead after ten minutes of the second half. Joe Kennefick then
gave Ballygarvan hope when he buried a twenty-one yard free, however, this
hope was short lived. In a three minute spell Niall Murphy finished the game
off when he struck 1-4.
The four points came from frees but his goal was a real gem, striking a
powerful shot to the net from twenty yards out. Courceys could afford to
take off Murphy after that and the subs that came in all staked a claim for
inclusion in the starting line up for the final next weekend.
Points from Jamie Hayes, David Murphy, two from Brian Hayes and a goal from
David Hayes gave Courceys an impressive final tally of 4-17, while another
Joe Kennefick point left Ballygarvan on 1-6. This win gives Courceys the
chance of avenging last year's final defeat by Ballinhassig when the rivals
lock horns in the final on Sunday next in Kinsale.
Courcey Rovers: A. Hegarty, B. Hayes, N. O'Donoghue, J. O'Donoghue, D.
Murphy (0-1), B. Downing, G. Maloney, L. Twomey, V. Hurley (0-1), N. Murphy
(2-11, 1-8 frees), D. Twomey, S. Twomey, M. O'Donovan (1-0), J. Murphy, S.
Hayes (0-1). Subs, C. White, B. Hayes (0-2), J. Hayes (0-1), D. Hayes (1-0).
Ballygarvan: J. O'Halloran, M. Brady, J. Spillane, E. Sheehan, G. Spillane,
A. Butler, M. Sheehan, S. O'Leary, F. Barry, A. Murphy, J. Kennefick (1-6,
all frees), L. Dillon, K. Ashman, M. O'Dowd, B. Daly. Subs: E. O'Neill, W.
O'Halloran.
Quarter Final South East Championship
Courcey Rovers 0-11 V 0-8 Carrigaline
Saturday 9th June @ Kinsale, 6:45pm
There were plenty of interested spectators in Kinsale on Friday night for
the clash of Carrigaline and Courcey Rovers in the South East Junior 'A'
hurling championship. Last year Carrigaline caused a major shock when they defeated Courceys only to lose to Shamrocks in the next round.
After that defeat, Courceys used the back door system to their advantage and progressed to another south-east final only to be defeated by Ballinhassig.
The two sides also met recently in the final of the Millennium Cup with Courceys emerging victorious on that occasion. The crowd anticipated a classic, but unfortunately it never materialised.
Carrigaline started the brighter and could have goaled in there opening
attack when corner-forward Brendan Hogan elected to pick the ball when a ground effort may have reaped a better reward and fortunately for Courceys, nothing came of it. Carrigaline did take the lead in the second minute when Brendan O'Driscoll pointed from a difficult angle.
Minutes later it was Courceys turn to spurn a goal opportunity when Brian Downing's goal effort flashed wide. Anthony Kelly of Carrigaline and Brian Hayes of Courceys then exchanged points before John Downing levelled up the game with a point in the thirteenth minute.
Anthony Kelly put Carrigaline back in the lead in the fifteenth minute when he pointed a free before Brendan O'Driscoll restored their two point advantage with another placed ball minutes after. Nicholas Murphy was hurling well for Carrigaline at centrefield but it was Courceys who were on top in most sectors at this stage but, their accuracy in front of the posts left a lot to be desired. Eventually they began to hit the target and two quick points from Niall Murphy and Brian Hayes left the sides level with two minutes left in the half. Ger Cooney of Carrigaline and David Murphy of Courceys then exchanged scores before another free from Brendan O'Driscoll left Carrigaline leading by 0-6 to 0-5 at the short whistle. Courceys levelled up the game for the fourth time in the second minute of second half through a Liam Twomey point.
Philip Ahern then restored Carrigaline's slender advantage with a long-range point in the ninth minute. Both sides spurned some good opportunities from open play but in Niall Murphy Courceys had a match winner as he was unerring from placed balls. He levelled the game at 0-7 each in the tenth minute of the half and gave his side the lead for the first time in the game with another free a minute later. It was a lead that they would never lose. Two more frees from Murphy left Courceys three points to the good with five minutes remaining. Nicholas Murphy narrowed the margin with a point from play but Niall Murphy restored Courceys three-point advantage with another free in the twenty-eighth minute.
In the concluding stages Carrigaline pushed hard for the goal which would have forced a replay but they couldn't find a way through a solid Courceys defence and it was Courceys who emerged victorious by 0-11 to 0-8. However, all is not lost for Carrigaline and they will get a second bite of the cherry in the losers group. Interestingly, the way the draw works out means that there is a good chance of these two sides meeting again at the semi-final stage. There are no doubts that that would be a much more exciting encounter.

Courcey Rovers: S. Hurley, B. Hayes, N. O'Donoghue, G. Maloney, D. Murphy (0-1), V. Hurley, S. Hayes, C. White, L. Twomey (0-1), J. Murphy, D. Twomey, B. Hayes (0-2), M. O'Donovan, B. Downing (0-1), N. Murphy (0-6, all frees).
Subs: D. Hayes J. Hayes,
Carrigaline: D. Hennessy, F. Barry, P. O'Driscoll, L. Guinane, P. Ahern, J.
Murphy, G. Dillon, N. Murphy (0-1), A. Kelly (0-2, frees), K. O'Driscoll, G.
Cooney (0-1), D. Buckley, B. O'Driscoll (0-3, 2 frees), D. Fleming, B.
Hogan.
================================
Http://CourceyRovers.Com
Courcey Rovers GAA Club
Official Website | CourceyRovers@Hotmail.com
Created by D.Corcoran