Final
Courcey Rovers 3-8 V 1-6 Carrigaline
Pairc Ui Rinn Friday May4th @7:30pm
Third Time Lucky
for
Courcey Rovers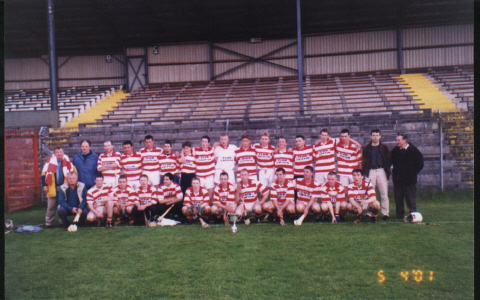 Courcey Rovers came good at the third time of asking by winning the Cork County Millennium Junior A Hurling Championship title at Pairc Ui Rinn last evening.
The Ballinadee club put the disappointment of losing two Junior County Finals in recent years behind them to record a fully deserved victory over their South-East neighbours.
Just a point separated the sides with eight minutes remaining, when Courceys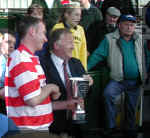 finished with a flourish, scoring 1-4 without reply with the decisive goal coming from Michael O'Donovan.
Niall Murphy was a constant thorn in the loosers' defence, scoring his side's final four points.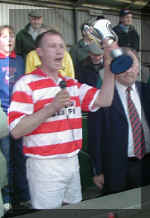 Carrigaline were four points in front after 18 minutes and would have been more but for shooting five wides. They were boosted by a seventh minute goal by midfielder Philip Aherne, whose speculative shot hopped over the goalkeeper Seamus Hurley.
A couple of points from Cork footballer Nicholas Murphy aided Carrigaline's cause as they swept 1-3 to 0-2 clear before Courceys took a grip.
A questionable refereeing decision, which denied Carrigaline centre forward Peter Murphy a clear free, ended with Courcey's left corner-forward Michael O'Donovan setting up his colleague in the other corner, Brian Hayes, for a well taken goal.
That left a point between the sides before O'Donovan completed the first half scoring.
Hayes grabbed his second goal after 45 minutes, his shot from the left deceiving backs and forwards alike, to leave Courceys 2-4 to 1-4 in front. A few Brian O'Driscoll frees reduced the gap to the minimum and produce a gripping climax only for Courceys to have other ideas.
Courcey Rovers:: S.Hurley, B. Hayes, N. O'Donoghue, J.O'Donoghue, D. Murphy, T. Lordan, S. Hayes, J. Murphy, L.Twomey, D. Hayes, S.Twomey, J. Murphy, M. O'Donovan, N. Murphy, B. Hayes. Sub:: D.Twomey.
Carrigaline:: D.Hennessy, P.Foster, P.O'Driscoll, L.Guinan, G.Dillon, J.Murphy, A.Kelly, N.Murphy, P.Aherne, E.Cronin, P.Murphy, B.O'Driscoll, K.O'Driscoll, G.Coomey, B.Horgan. Sub:: D.Fleming
Referee:: C. McAllister (Midleton)
(Taken from "The Irish Examiner" newspaper)
Semi Final
Courcey Rovers 1-15 V 0-6 Banteer
Pairc Ui Rinn Sunday 8th April@ 3:00pm 2001
Courcey Rovers eased confidently through to the final of the 2000 Millennium Cup junior 'A' hurling competition by virtue of a decisive victory over Banteer at Páirc Uí Rinn last Sunday. Playing into a strong wind in the first-half, Courceys, with Sean Hayes, Gary Moloney and John O'Donoghue forming an unyielding full back line, soaked up some strong early pressure before firmly stamping their authority on the proceedings following the boost of a well-taken goal by corner-forward, Michael O'Donovan in the 6th. minute.
That made it 1-2 to 0-1, and Courceys, aided by particularly significant contributions from Brian Hayes at wing-back, John K. Murphy and John R. Murphy at midfield, and classy full-forward, Niall Murphy, had little difficulty in consolidating their advantage before half-time.


Timmy Lordan and David Murphy also showed up well in a Courceys defence which limited Banteer to just two points in the first-half, and both of these were scored by wing-back, Michael Doyle, the second from a long-range free in the 17th. minute.
By then, Courceys had put 1-4 on the board, and they
stretched the gap through Seamus Hayes and David Hayes before wing-back Brian Hayes got in on the scoring act with six minutes to the interval. It had taken a fine save by dependable Banteer custodian, Paul Murphy, to deny Michael O'Donovan a second goal less than a minute earlier, and Courceys were out of luck again nearing half-time when corner-forward, Donal Twomey, failed to control the ball after Niall Murphy and John K. Murphy had combined to put him clean through.
Such was the extent of Courceys' control, however, that those wasted opportunities appeared to be a luxury which the South-East men were well able to afford, especially after John K. Murphy tacked on a late point to leave them 1-8 to 0-2 to the good at the break.
But Banteer enjoyed their best spell during the third-quarter when Michael O'Connor worked hard to give them a definite edge at midfield, and Teddy Fitzgerald, Michael J. O'Keeffe and Michael Doyle began to make their presence felt in the half-back line. And Courceys' might well have found themselves with a fight on their hands but for the excellence of netminder, Seamus Hurley, who brought off three fine saves to nip a possible Banteer revival in the bud. With the score at 1-9 to 0-3, Hurley foiled Banteer centre forward, Conor Buckley, in the 39th. minute. And, after Banteer were awarded a close-in free in the ensuing goalmouth scramble, he came to Courceys' rescue again when proving equal to Michael Doyle's effort for goal.
Two minutes later, Hurley brought off a spectacular save from Banteer corner forward, John Lane, whose point from a free within seconds was scant reward for a spell of severe pressure by the losers. Perhaps Courceys had been guilty of resting on their laurels in the third-quarter, but, whether or which, the difference in class was glaringly obvious again on the run-in as they smoothly raised the tempo to leave Banteer floundering in their wake. A good score from John R. Murphy in the 46th. minute was the signal for Courceys to get back on course, and their ticket to a mouth-watering final showdown with South-East neighbours Carrigaline was safely in the bag when they led by 1-14 to 0-5 approaching the last five minutes. Niall Murphy, from a free, and John K. Murphy increased Courceys lead before John Lane bagged a consolation point for Banteer in stoppage time.
Scorers – Courcey Rovers: M. O'Donovan 1-1, J.K. Murphy 0-4, N. Murphy 0-4, 0-1 free, Seamus Hayes and D. Hayes 0-2 each, B. Hayes and J.R. Murphy 0-1 each.
Banteer: J. Lane 0-3, 0-2 frees, M. Doyle 0-2, 0-1 free, M. O'Connor 0-1.
Courcey Rovers: S. Hurley, Sean Hayes, G. Moloney, J. O'Donoghue, B. Hayes, T. Lordan, D. Murphy, J.R. Murphy, J.K. Murphy, D. Hayes, S. Twomey, Seamus Hayes, M. O'Donovan, N. Murphy, D. Twomey. Subs, C. White , B. Hayes , L. Twomey , D Crowley.
Banteer: P. Murphy, D.J. O'Sullivan, C. Lane, W. Sweeney, T. Fitzgerald, M.J. O'Keeffe, M. Doyle,M. O'Connor, G, Buckley, A. McCarthy, C. Buckley, P. Doyle, J. Lane, J. O'Mahony, C. Lawlor. Subs, D. Fitzgerald for A. McCarthy, P. O'Riordan for C. Lane, D. Sheehan for C. Buckley (injured),T. Kelleher for P. Doyle.
Referee, C. McAlister, Midleton.
1/4 Final (After Extra Time)
Courcey Rovers 2-14 V 2-12 Castletownroche
Kilworth Sunday14th January @2:30pm 2001
Courcey Rovers defeated Castletownroche by two points in the Co Millennium Hurling championship quarter final at Kilworth on Sunday afternoon last after extra time. This was a thrilling game between two evenly matched sides. Castletownroche started the better and had three early points by Jonathan O'Callaghan before Denis Twomey opened Courcey's account in the 9th min 0-3 to 0-1.In the 10th min Edmond O'Connor set up Christopher Relihan for a goal for the North Cork side. Courcey Rovers came more into the game and had three points by Niall Murphy (2) and Seamus Hayes 1 -3 to 0-4.
Maurice O'Shaughnessy put Castletownroche three points clear by the end of the opening quarter. Courcey Rovers added four quick points in succession by Niall Murphy (3) and Michael O'Donovan to go ahead 0 - 8 to 1 - 4 by the 22nd min. Jonathan O'Callaghan had the sides level by the 27th min and the Avondhu side took the lead in the 28th min when Maurice O'Shaughnessy pointed to lead at the interval 1-6 to 0 -8.
Both sides missed a number of scoring chances on the changeover before Brian Hayes set up Vincent Hurley for a goal in the 40th min for the Carrigdhoun side 1-8 to 1-6.Jonathan O'Callaghan restored Castletown's lead by the end of the third quarter when he goaled from a close in free 2 - 6 to 1 - 8. Niall Murphy and Jonathan O'Callaghan exchanged a point each by the 48th min. Niall Murphy had the sides level in the 49th min and the same player gave the winners the lead in the 50th min 1-11 to 2-7. Jonathan O'Callaghan had the sides level in the 52nd min. Both sides failed to score in the last 8 mins and the game finished level 2-8 to 1-11.
In extra time Jonathan O'Callaghan had two early points for Castletown 2 -10 to 1-12. In the 71st min a long clearance by Seamus Hayes set up Denis Twomey for a goal for Courcey Rovers to give them a slight advantage at half time in extra time 2-12 to 2-10.
On the restart Dave Relihan cut the lead to a point for the North Cork side. Niall Murphy and Jonathan O'Callaghan exchanged a point for the 81st min 2-13 to 2-12. Two mins later Denis Twomey set up Niall Murphy for a point to leave two points between the sides. Castletownroche tried hard in the closing minutes but were unable to break through a strong Courcey's defence.
Scorers: Courcey Rovers -Niall Murphy 0 - 11 (0 - 3 frees), Denis Twomey 1 - 1, Vincent Hurley 1 - 0, Michael O'Donovan 0 - 1, Sean Hayes 0 - 1,
Castletownroche - Jonathan O'Callaghan 1 - 9 (1 - 5 frees) 0 - 1 65), Christopher Relihan 1 - 0, Maurice O'Shaughnessy 0 - 2, Dave Relihan 0 - 1,
Teams: Courcey Rovers -Seamus Hurley, Sean Hayes, Garry Moloney, John O'Donoghue, Brian Hayes, Vincent O'Donovan, Denis Hurley, Seamus Twomey, Dave Hayes, Seamus Hayes, Denis Twomey, Brian Hayes, Michael O'Donovan, Niall Murphy, Donal Twomey. Subs: Vincent Hurley, Jamie Hayes , Owen Hayes , Liam Twomey , Michael O'Donovan , Padraig Coholan.
Castletownroche -Donal Roche, Robert Cotter, Wesley Walsh, Bill O'Brien, Dave Relihan, Mattie Noonan, John Batterberry, Derek Noonan, Eugene O'Shaughnessy, Maurice O'Shaughnessy, Jonathan O'Callaghan, Michael Browne, Christopher Relihan, Edmond O'Connor, Brian Magnier, Sub Maurice O'Shaughnessy .
Referee: Charlie McAllister (Midleton).
2nd Round
Courcey Rovers 2-22 V Meelin 1-4
Grenagh Sunday 28th May @8:00pm 2000
1st Round
Courcey Rovers 6-13 V Ballyhooly 1-10
Watergrasshill Sunday May 7th@3:30pm 2000

Courceys started their Millennium Hurling campaign in style with a good win over our North Cork opponents, Courceys were always the stronger but had to endure playing second fiddle at times during the second half when Ballyhooly upped the pressure, only for a few soft goals in the first half the final scoreline would have been alot closer. We now go on to meet Meelin in the next round but a big improvement will have to be made to reach the heights of last year.

Back To Top
===============================================
3rd Round
Courcey Rovers 2-10 V 3-16 Illen Rovers
Clonakilty Sunday May21@ 6:00pm
Any ideas that Illen supporters had of an easy win over Courcey Rovers in this Millennium junior A football contest in Clonakilty on Sunday evening last were quickly dispelled by the battling south-east men and by the end of a hard hour the men from Church Cross- Baltimore certainly knew they had been in a match. Forced to line out without the influential Pat Connolly it took Illen some time to get going in this game and again it was their penchant for scoring spectacular goals that steered their rocky boat to safe waters.

Courceys were quickly into their stride on a fine evening and looked keen and eager. With the aid of the breeze they had four points on the board before Illen got a look at the goalposts. Hero of this great start was Declan Murray who lofted over all four points and it took Illen some time to come to grips with him. Lining out at centre forward, Cork player Fachtna Collins finally got Illen on the scoreboard in the 12th minute and he followed with another from a free two minutes later.

Illen were at last beginning to get their running game going at this stage despite some timely interceptions from the lively Courcey men and in the 14th minute they scored one of their classic goals when Donie Duggan, Jason Whooley and the outstanding Brian O'Sullivan combined to send John Shih through for a cracking major and the lead for the first time.

While Whooley was to emerge as the scoring hero over the hour, it was O'Sullivan at full forward who was involved in all that was good in Illen's playmaking. But Courceys were in no way intimidated by Illen's reputation and they were quickly level with a David Hayes point.
Tackling and running hard, the south-east men hit the front again when a high ball into the Illen goalmouth was fisted by John Murphy. Goalie Gary Coakley looked to have it well covered but let it fall from his grasp and Brian Hayes (Castle Park) was on hand to finish to the net. With centre back Denis Twomey marshalling his backs very well, Brian Downey and Séamus Hurley working hard at midfield and the two Brian Hayes's, John Hurley and especially Declan Murray looking lively up front Courceys were looking very impressive.

However, in the space of four minutes the third goal arrived when Brian Daly and Fachtna Collins combined to send Jason Whooley in for a smashing goal in the 20th minute to level the scores. After this frantic burst of goals the scoring slowed down somewhat and Con O'Driscoll, who was to emerge as the main figure in the second half, kicked his first point to put Ilen in front. Back came Declan Murray to level but it was Ilen who finished the half on top with two points from Jason Whooley and Donal Duggan to lead by 2-5 to 1-6 at the break.

Ilen took up in the second half where they left off at the end of the first and with Con O'Driscoll rampant in the corner they quickly kicked over seven points from O'Driscoll (0-4), Kieran Daly and Brian O'Sullivan (0-2) with only a single reply from Courceys' Donal Twomey. Eight points to the good, 2-12 to 1-7, it seemed Ilen were on their way to another comprehensive victory but somebody forgot to tell Courceys to lie down and in the 43rd minute they were back in the game with a bang when Brian Downey struck the Ilen post and David Hayes was on hand to finish the rebound to the net. When Jamie Hayes added a point the lead was down to four points as the third quarter ended.

Alarm bells were ringing in the Ilen camp at this point and it was the experienced Jason Whooley who steadied the boat with a good point. In a hectic period of action, points were exchanged between Diarmuid Duggan and John Murphy and then between Alex Whooley and Declan Murray from a free. Fachtna Collins missed a great chance of a goal as the Ilen supporters worried and again it was the flying Jason Whooley who came to the rescue in the 53rd minute when he raced through to take a pass from Kieran Daly and finish to the net in spectacular fashion.

A Fachtna Collins' point closed the scoring after a cracking hour's football, played at a fierce pace which reflected great credit on both sides. The game was fairly physical at times but was well handled by referee Michael Collins of the Clon club.

Ilen Rovers: Gary Coakley, Donal Murphy, Donal O'Driscoll, Ciarán O'Driscoll, John Wycherley, Diarmuid Duggan 0-1, John Sheehy 1-0, Kieran Daly 0-1, Alex Whooley 0-1, Donie Duggan 0-1, Fachtna Collins 0-3 (0-2 frees), Jason Whooley 2-2, Chris Collins, Brian O'Sullivan 0-2, Con O'Driscoll 0-5 (0-1). Subs, Finbarr O'Donovan, Florrie O'Donoghue, Raymie Seymour.

Courcey Rovers: Michael Hayes, Adrian Collins, Seán Hayes, Niall Murray, Séamus Hayes, Denis Twomey, Donal Twomey 0-1, Séamus Hurley, Brian Downey, John Murphy 0-1, Brian Hayes (C) 1-0, Jamie Hayes 0-1 free, David Hayes 1-1, Brian Hayes, Declan Murray 0-6 (0-1 a 45, 0-1 free). Sub, John Galvin.
2nd Round
Courcey Rovers 1-14 V 2-8 Fr. O'Neills
Mayfield Monday May 1st@3:30pm
While it took a great save by goalkeeper Michael Walsh near the end to see Courcey Rovers through to the third round of the millennium cup county junior football championship, they were full value for their victory over Fr. O'Neill's in an entertaining encounter at sun-drenched Mayfield last Monday.
The fact is that the South-East side enjoyed much the better of the exchanges over the hour, and it was primarily due to erratic shooting, which brought them a total of 16 wides, that they struggled to put the game beyond the reach of the spirited Ballymacoda men.
Courceys certainly dictated matters to a huge degree in the first-half when Seamus Hurley made a major impact to give them a pronounced grip at midfield. It led to a generous service to the attack where John Murphy on the '40, David Hayes in the left corner, and full-forward Brian Hayes all managed to make life most uncomfortable for an overworked Fr. O'Neill's defence.
Stung by a goal from Fr. O'Neill's wing-forward John Flavin which made it 1-0 to 0-1 inside six minutes, Courceys quickly got back on terms through points from midfielder Tim Lordan and John Murphy before full-forward Brian Hayes inched them ahead again in the 10th. minute.
As things turned out, Fr. O'Neill's never managed to earn equality after that, and they appeared to be in dire trouble after Courceys stretched the gap to five points entering the second-quarter.
To their credit, Fr. O'Neill's stuck to their task, and, with John Flavin moving to midfield to good effect, they lifted the siege somewhat as the first-half drew to a close.
They were rewarded with three points on the trot per John Flavin, and Eoin Conway and Ger Holland, from frees, before John Murphy replied to leave Courceys leading unflatteringly by 0-9 to 1-3 at the end of a lively opening period.
Courcey's prospects received a huge boost within two minutes of the resumption when David Hayes made a perfectly-timed run into the square to fist a Seamus Hurley delivery past hesitant Fr. O'Neill's custodian Michael Mellerick. But Fr. O'Neill's tightened up considerably in defence after that, and they fared a lot better too at midfield where an obviously tiring Seamus Hurley wasn't nearly as influential for Courceys in the second-half.
The result was that Courcey's were unable to consolidate their advantage, although they remained firmly in the driving seat until Fr. O'Neill's full-forward Donal Broderick fisted in an opportunist goal, after Michael Walsh had initially parried a rasper from centre-forward Michael Broderick, in the 49th. minute. That made it 1-11 to 2-5, and the scene was set for an exciting finish when Eoin Conway, who was constantly in the picture when brought out from corner-forward to midfield for the last quarter, tacked on a point for the East-Cork side six minutes later.
It was to be a case of tit-for-tat in the ensuing minutes, and Courceys, aided by good scores from Declan Murray, arguably their most effective forward in the second-half, and substitute Donal Twomey, were looking good when they led by three points well into injury-time.
Fr. O'Neill's were prepared to battle to the very end, however, and they went agonisingly close to earning a dramatic reprieve, with Courceys' custodian Michael Walsh diving full-length to keep out a cracking drive from Donal Broderick just seconds before the last whistle.
Sean Hayes, Seamus Hayes and Denis Twomey were best in defence when the pressure increased after the break for Courceys, who will face a most daunting assignment against last year's defeated county finalists, Ilen Rovers, next time out. Billy Murphy, Colm Mellerick, John Flavin, Eoin Conway and Michael Broderick achieved most over the hour for Fr. O'Neill's.

Courcey Rovers: M. Walsh, M. Roche, Sean Hayes, A. Collins, Seamus Hayes, Denis Twomey, E. Hayes, T. Lordan(0-1), S. Hurley(0-2), B. Hayes, J. Murphy(0-2), D. Murray(0-5), J. Hayes, B. Hayes(0-2), D. Hayes(1-1). Subs, B. Murphy for E. Hayes, Donal Twomey(0-1) for Lordan, N. Murphy for Collins.
1st Round
Courcey Rovers 3-12 V 2-8 Glengarriffe
Kilmurry Sunday April 16th 3:30pm
(After Extra Time)

We had a god win over Glengarriffe in the first round of the Millennium football competition, after a very bad start and two early goals for Glengarriffe, Courceys came back to finish the stronger to level matters at full time on a scoreline of 2-7 each, after being 2-5 to 1-3 down at half time. In extra time we got a quick goal and stayed in front for the remainder to qualify for a 2nd round meeting with F. O'Neills.
Back To Top