Southern Star, Thursday 2nd September 1993.
Jubilation for Courcey Rovers after long wait.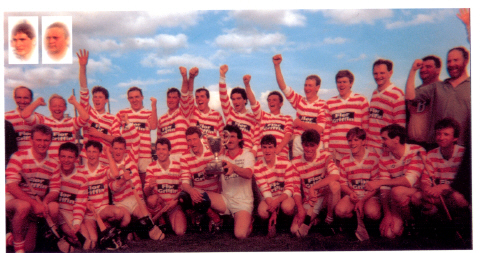 Courcey Rovers 3-10 Ballinhassig 1-14
The long wait is over, the hunger is ended and the ghosts of the past have been laid to rest. There were memorable scenes at the end of this "Barry Collins" sponsored South East Junior A Hurling final at Minane Bridge on Sunday last as Courcey Rovers celebrated a victory which they have waited for since 1975. But all the pain and the heartbreak was forgotten when referee DanJoe Murphy blew that final whistle.
When Courceys left West Cork in 1975 little did they think that a long lonely road faced them in the years ahead. But lonely it was and heartbreaking it was as they suffered heartbreak after heartbreak. For most of last Sunday's first half it looked as if their tale of woe was about to continue as they seemed determined to hand over the spoils to a Ballinhassig side which was moving nicely. But despite all their problems, Courceys still managed to be well in touch at the break when they trailed by just three points--1-4 to 0-10.
But they suffered a sickening blow when the 'Blues' poached a goal to go two goals clear within seconds of the re-start. It looked as if it would be the same old story for Courceys, but the darkest hour is that before the dawn and a new dawn was about to break for Courceys.
A huge crowd attended the well-prepared Tracton venue and there was a buzz in the air as the team reluctantly strolled behind the band in the pre-match parade.
The challengers faced the wind and sun in the opening half and they were a point behind when Sean McCarthy pointed after James Ahern was fouled, but it was all square when Seamus Twomey sent over a great point from the left corner. With John O'Donoghue doing well at centre-back, Courceys proceeded to take on the champions when good work by Charlie White, who was to play a major role in this game, ended with the "Reverend" Ger Sweetman rattling the net from close range. A point by Donie Nyhan made it 1-2 to 0-1 after five minutes and Courceys had got the start which they wanted.
They failed to capitalise however, and as Michael Lombard intercepted another dangerous Courceys attach, Ballinhassig began to settle as Courceys began to conceed frees under mounting pressure. This proved a costly exercise because Sean McCarthy was in good form from frees and he tapped over four placed balls to leave just one point between the sides at the end of the first quarter with Courceys leading 1-3 to 0-5.
Courceys will want to forget the second quarter when everything seemed to go wrong for them as they gave away possession, conceded frees and drove line balls straight back over the line. Their hurling was messy and nervous during that period but they were fortunate that the 'Blues' failed to punish them in full for their shortcomings.
With Kevin Cullinane cleaning up at centre back and with Peter Brennan and Denis McCarthy staring on the left flank of the defence, Sean McCarthy ensured that James Ahern and company got good possession up front. But the five lovely points which they scored from play was a poor return from the possession which they enjoyed. Courceys switched about their team in an effort to stem the tide and, while it wasn't evident at first, Donie Nyhan and Charlie White were destined to play vital roles in Ballinhassig's downfall.
it was 0-10 to 1-4 at the break and while that three point deficit was very little considering the trend of the second quarter, very few gave Courceys a chance even though they would have the benefit of the wind and the sun on the re-start. Their prospects looked even less promising when Aidan Holland put the ball in their net following a Sean McCarthy sideline cut in the 31st minute and Donie Nyhan failed from handy free before he eventually made it 1-10 to 1-5 from a '65 after 35 minutes. It was 1-11 to 1-7 after 38 minutes, but the drama was only starting, with Seamus Towmey's excellent point. Charlie White and Denis Twomey beginning to lord it at midfield and with Denis Hurley and Brian Downing at wing-back, Donie Nyhan proceeded to put pressure on the champions who were beginning to slip. . A goal by Denis Cummins following a cross by White, ignited the challengers and the scene was alight when Nyhan tied the score in the 43rd minute and then put them ahead at the three quarters stage.
Courceys proceeded to hurl with fire, as Ballinhassig replaced young Mullaney, but the champions were still staying with them as Peter Brennan cleared his lines. They eventually cracked, however, and were four points adrift when Michael Lombard, under pressure from Cummins, turned Diarmuid Corcoran's drive into his own net with ten minutes to go. With defeat staring them in the face, the 'Blues' pulled out all the stops in those final minutes as they really put it up to the incoming champions.
Gerry Holland was fouled as he raced through in the 55 minute but amazingly Sean McCarthy went for a goal and was fortunate that Courceys conceded a '65' which Damien McCarthy converted. Lombard then raced though the defence and when he lost possession the ball came to Diarmuid Coleman who pointed and then there was just a single point in it when Calnan was fouled and Sean McCarthy pointed with two minutes remaining.
One could cut the tension as the 'Blues' desperately sought that equaliser but it was not to be and it was fitting that Donie Nyhan, hero of many a battle, should be the one to wrap it up when he steered over the final all-important point from a free approx. 50 yards out. DanJoe Murphy's final whistle released eighteen years of torture and frustration where Courceys were concerned and, yes indeed, it is a long road that has no turning. Having broken that barrier, they will now be hoping for greater things in the months and years ahead. But, for now, they can celebrate a historic and unforgettable victory. For the gallant losers, this was a big disappointment, as they were hoping to go all the way this year, but you have to accept that agony and the ecstasy and they were first to accept that they didn't deserve to win--especially on their second half display.
Referee DanJoe Murphy had no trouble with two sporting teams and goalkeeper Michael Cahalane was presented with the cup by Mr. Sean Twomey, chairman of the South East Board. Donie Nyhan was a very popular winner of the 'Man of the Match' award which was sponsored by Donie Coleman's supermarket , Ballinhassig.
The Champions Lineout..
Michael Cahalane(C)

Donal Quinn, D.J. O'Rielly, Gerard O'Donovan

Brian Downing, John O'Donoghue, Denis Hurley

Denis Twomey, Diarmuid Corcoran

Jamie Hayes, Seamus Twomey, Charlie White

Gerard Sweetman, Donie Nyhan, Denis Cummins

Subs Used:: Donal Crowley, Christy Corcoran.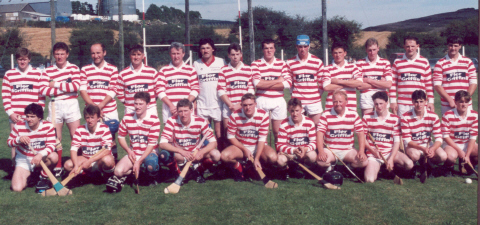 Back Row L to R: Christy Corcoran, Brian Downing, DJ O'Reilly, Donie Nyhan, Donal Quinn, Michael Cahalane, Denis Twomey, Gerard O'Donovan, Seamus Twomey, Denis Hurley, Michael Roche, Kevin Hannon, Wille Sweetman.
Front Row L to R: Donal Crowley, Lawrence O'Donovan, John O'Donoghue, Gerard Sweetman, Diarmuid Corcoran, Charlie White, Denis Cummins, Jamie Hayes, John Roche, Anto Hegarty.
==================================
Championship Matches in 1993
South-East Championship
1st Round
Courcey Rovers 2-14 V 1-7 Carrigaline
Innishannon
Semi-Final
Courcey Rovers 0-18 V 2-8 Ballygarvan
Ballinhassig
South East Junior A Hurling Final 1993
Courcey Rovers 3-10 Ballinhassig 1-14
Minane Bridge
County Championship Matches
1st Round
Courcey Rovers V Castlelyons
Pairc Ui Chaoimh
1st Round Replay
Courcey Rovers V Castlelyons
Pairc Ui Chaoimh
Semi-Final
Courcey Rovers V Blarney
Pairc Ui Rinn